USS Jamestown – Sloop
By Glenn Smith (#8073)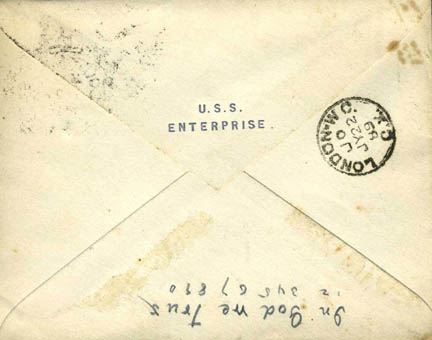 Cover description:
TO: Commander Lamberton
Comd'g USS Jamestown
c/o B. F. Stevens
4 Trafalgar Square
London
Posted at Southampton July 22 nd, 1889 and backstamped at London.W.C. the same day. JAMESTOWN was a sloop commissioned 1844 and decommissioned 1892. The letter was from an unknown writer serving in ENTERPRISE; a steam sloop-of-war commissioned 1877 and decommissioned 1909. (It is likely that the sender was the commanding officer or at least a senior officer in ENTERPRISE, but that cannot be determined.) 
_______________________________________________________________________________________
At the February meeting of the Cumberland Valley Philatelic Society a retired stamp dealer came in and asked if anyone had any interest in naval covers? Did I? And this was the first time anybody ever brought any naval covers to one of our meetings.
He had a dealer's box full of covers that had not seen the light of day in many a moon. I quickly picked out 25 covers that seemed to have promise (I did not have my USCS Catalog with me, so it was a shot-in-the-dark for most of them).
The next day I started going through them and sending scans of them to Greg Ciesielski for him to put them in the Naval Cover Museum (www.navalcovermuseum.org). When I got to this cover, since it was dated 1889 it would not be in the USCS Catalog, so it was time to turn to Google to see if a CDR Lamberton could be found. To my amazement, not only was he found…but he fit extremely well into what I was working on, an exhibit about the Navy and the Philippines. As it turned out, Benjamin Peffer Lamberton was born near my home and attended high school in Carlisle, PA (the same town that was home to the Carlisle Indian Industrial School – Jim Thorpe's alma mater).
The plot thickens even more. After three years of study at Dickinson College, Lamberton transferred to the Naval Academy and was appointed midshipman in 1861, in time to see Civil War service. By 1898, Lamberton has seen 30 years of service at sea, and was ordered to command of the cruiser Boston in the Asiatic Fleet, but by the time he got to the Far East war with the Spanish was imminent. Commodore Dewey needed a competent seaman administrator as his chief-of-staff, and so he "appropriated" Lamberton. This placed him at Dewey's side at the Battle of Manila bay in the flagship Olympia (CAPT Charles Gridley, commanding).