USS Herbert DD-160
By Don Tjossem (USCS # L-10987)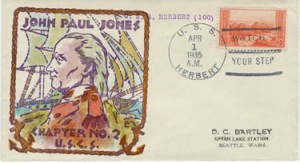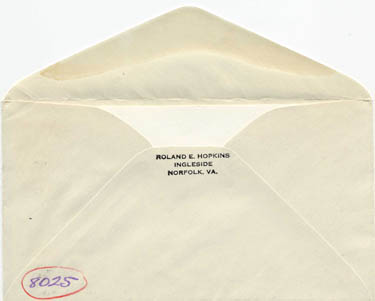 April 2007 Cover of the Month
This month's Cover of the Month was cancelled aboard the USS HERBERT on April fool's Day in 1935. (No fooling, that was over 70 years ago.) This cover is credited to John Coulthard of Modesto, CA where he was active as USCS member # 802. He was very active in many naval cachet organizations as well as first day cover groups. Many of his covers are identified by the "E" in the cachet that is apparent in this on the lower right hand side. The John Paul Jones Chapter # 2 was the group he was most active in.
This cover is addressed to D. C. Bartley in Seattle, who was President of the USCS at the time. He is USCS # 44 and made his home in Seattle and was a Cachet Director for the John Paul Jones Chapter. He worked jointly with Coulthard on many covers. He was active from about 1932 to the 1960's in cachet making.
On the reverse side as a return address, which was under the flap, was printed the name of Roland E. Hopkins of Norfolk, VA. His us USCS # 672 and was active as a cover sponsor for a couple of years in the 1935 – 1936 time period. His printed address on the reverse is rather unusual because if anyone were to seal the envelope nobody would be able to read his return address. It would only be readable if it the flap was tucked in, which may be the way it was meant to be. (Editor: Roland resigned from the USCS in March 2007.)
HERBERT was (DD-160) was launched on 8 May 1919 and commissioned on 21 November 1919. At the time this cover was cancelled she was a training ship for naval reserves and midshipmen. She was a member of the Atlantic Fleet on 7 December 1941 and was participating in the Key West Sound School for sonar practice, at this time being one of the early destroyers to be outfitted with sonar. During WWII she was very active and completed her service, winning six battle stars for her service.