USS Arctic – AF-7
Don Tjossem, (USCS # L-10987)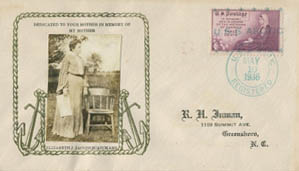 May 2007 Cover of the Month
This cover honoring Mother's Day was cancelled on 10 May 1936 aboard the third USS ARCTIC (AF-7) with a registered cancellation. This Scott 737, Mothers of America stamp, was a First Day issue on 2 May 1934 and this cover was serviced two years later to honor the mother of Norwood B. Scatchard, who was the designer of this cachet.
The picture of the mother on this cachet appears to be Elizabeth J. Jacobs Scatchard, the mother of Norwood B. Scatchard, designer of this cachet. Norwood Scatchard was an active cover sponsor in the era from 1936 thru 1939 and was USCS # 933.
This letter is addressed to R. H. Inman. With basic research there is no indication that this addressee, of Greensboro, North Carolina has been a member of the USCS.
ARCTIC was built by Moore Shipbuilding Company in Oakland, California in 1919 and commissioned on 7 November 1921. Arctic served most of her time in the Pacific carrying supplies from San Francisco to Pearl Harbor during the early part of World War II. After the Japanese surrender in 1945 she made a trip to Japan with provisions for the occupation forces. The last day of postal service for her was 27 March 1946. She was struck on 1 May 1946 and sold for scrap on 19 August 1947.