USS Constitution
By Steve Shay (#L-10821)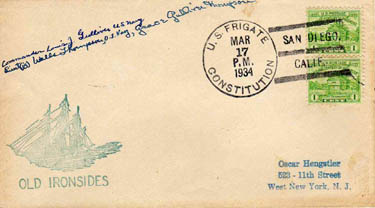 March 2007 Cover of the Month
In July 1931 the frigate USS Constitution, perhaps better known as Old Ironsides, began a journey that would take her on a tour of the eastern United States, a passage through the Panama Canal and a tour of the western United States. March 1934 found the Constitution at San Diego where she had arrived on November 3, 1933 on the return trip to Boston. At each port the public was invited aboard. It is estimated that more than 2,500,000 people had come aboard during the west coast visit. On March 20, 1934 USS Constitution would depart at 9:15AM towed by the tug USS Koka out of the harbor. From there, the tender USS Bushnell would tow Old Ironsides half way to the Panama Canal where USS Grebe would take over for the remainder of the trip. Constitution would fly the flag of Admiral John Greenslade, Commander Submarines, United States Fleet as she left San Diego before he returned to USS Bushnell.
While in San Diego, Lieutenant (j.g.) Wells Thompson of the USS Barney and his bride, Grace Whiting Gulliver, took advantage of the fine old ship to be married aboard on March 17, 1934. Grace was the daughter of the Captain of the Constitution, Commander Louis Joseph Gulliver and Mrs. Gulliver. The wedding was at 4:00 PM in the captain's cabin. Chaplain Lieut. Com. Clinton A. Neyman of the USS Indianapolis read the service before 85 guests.
The bride wore a closely fitted satin gown of blush mauve, fashioned with a train and long tight sleeves and was given in marriage by her father. She wore a matching veil of silk net that fell from a tulle cap caught with orange blossoms. Her sisters were flower girls; the matron of honor Mrs. Samuel H. Crittenden. Lt. Thompson chose as his best man Lt. Thomas Ashcraft of the USS Houston. Ushers were Lt. Samuel Crittenden of the USS Elliot, Lt. C.R. Herms of the USS Yarnell, Lt. F.L. Jordan of the USS Greer and Ensign Walter Wright of the USS Upshur. This was likely the first wedding aboard the old frigate.
This cover features a standard rubber stamp cachet used throughout the tour and is autographed by Commander Gulliver and the bride and groom. The cover is postmarked with the USS Constitution Type 3 cancel on the date of the wedding, March 17, 1934.