USS Henderson (AP-1)
By Steve Shay (#L-10,821)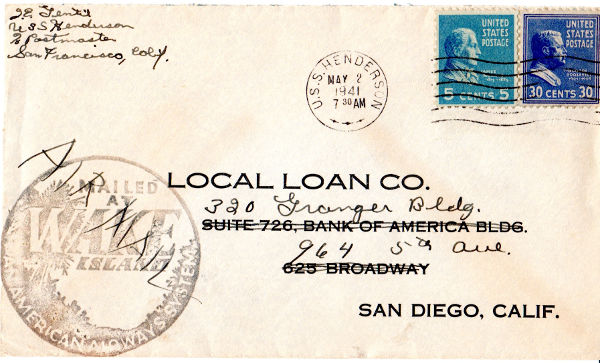 USS Henderson was a transport ship launched June 17, 1916 at the Philadelphia Navy Yard. Commissioned May 24, 1917, she went on to transport members of the AEF to France during World War I and then transported over 10,000 veterans back to the US after the war. She next served in the Caribbean for several years although she did make a trip to Alaska in 1923 with President Warren Harding.
By 1927 she had moved to the Pacific moving Marines and Naval personnel around between China and the Philippines and other Pacific islands.
In 1941 she moved reinforcements to Wake Island during the construction and build up of forces on the island.
This non philatelic cover was mailed at Wake Island, May 2, 1941. Mail from Wake received this cachet, courtesy of Pan American Airways, the airline that carried air mail to and from the island as part of the clipper service from San Francisco to Manila and onward. There was no established postal rate for mail to and from Wake Island although there was a recognized rate of 35¢ between Wake and the continental US. (It was 20¢ from the US to San Francisco, 50¢ between the US and Manila. With Wake as a point between Hawaii and Manila, 15¢ split the difference as Wake was about half the distance between Hawaii and Manila.)
Mail to and from Wake is scarce.
During World War II, Henderson moved troops in the Pacific until decommissioning October 13, 1943. She was then converted to a hospital ship, USS Bountiful, AH-9. Bountiful served in the Pacific until her decommissioning September 13, 1946 and subsequent scrapping in 1948.