USS Hammerhead (SSN-663)
By Steve Shay (#L-10821)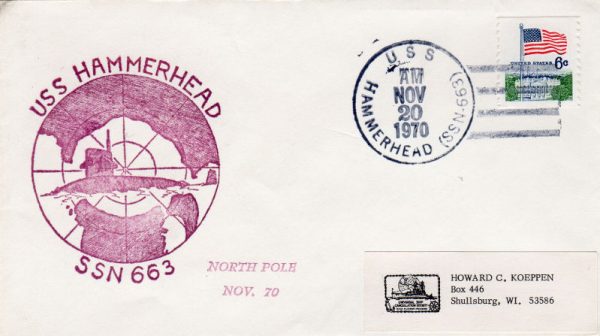 The nuclear attack sub USS Hammerhead, SSN-663, was a Sturgeon class submarine. She was launched April 14, 1967 and commissioned June 28, 1968.
Along with USS Shark, Hammerhead left Norfolk for SubIcex 2-70. Hammerhead made a record number of surfacings through the ice including one surfacing at the North Pole on November 20, 1970.
The US Postal Service approved a cancellation to mark the event of the surfacing. Approximately 1200 covers were cancelled while at the North Pole.
Hammerhead would remain in service until April 5, 1995 when she was decommissioned.