USRSC Oliver Wolcott
By Glenn Smith (#8,073)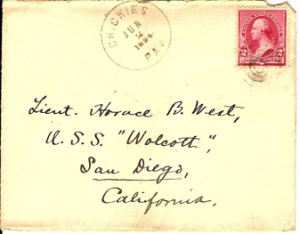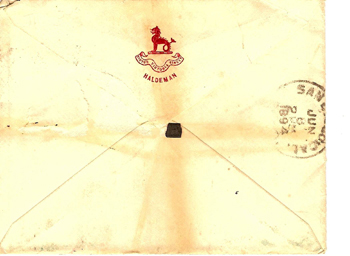 This cover was posted to Lieut. Horace B. West in "USS WOLCOTT" on June 2 nd, 1894 from Chickies, PA. The postage used was the 1890 2c George Washington issue tied to the cover by a "bull's-eye" cancel. Chickies, PA is now a "dead post office," with Chickies being located in Lancaster County about half way between Columbia and Marietta, PA.
The cover was back stamped in San Diego, CA on June 8 th, 1894, which means that it made the trip from Chickies to San Diego in six days, which would be about average for a first class letter today!
The USS is, of course, incorrect in that the WOLCOTT was a United States Revenue Service Cutter. The cutter was named for the second secretary of the treasury, Oliver Wolcott, who succeeded Alexander Hamiliton, and later was governor of Connecticut. So the name of the ship is correctly written as: USRSC OLIVER WOLCOTT.
The U.S. Revenue Cutter Service Officer's Register, July 1 st, 1892, lists Horace B. West as a Second Lieutenant assigned to the steamer WOLCOTT at Port Townsend, Washington. LT West was born in and entered the Revenue Cutter Service from Pennsylvania. His date of rank in 1892 was February 21 st, 1888.
In May 1882, Cutter OLIVER WOLCOTT was deserted (as opposed to being abandoned in-extremis) by her crew. USCG history cites no reason for this desertion, nor does it say how long the desertion lasted. The desertion was the only such case in US Coast Guard and its predecessor service's histories. The situation must have been too embarrassing to dwell upon!
On January 15 th, 1883, The New York Times published an account (from Victoria, British Columbia) of Cutter OLIVER WOLCOTT being dispatched to the Metlakahtla mission because of an alleged dispute between a Bishop Ridley and a Missionary Duncan. The bishop and the missionary were from the Church of England. Why an argument between two clerics needed a warship to intervene was unclear. Interestingly, the same article said that "The Baptists have withdrawn from the province (British Columbia), and have sold their church in this city."
From the USCG web site:
Wolcott (Oliver), 1873
Type/Rig/Class: Steamer
Builder: Risden Iron Works, San Francisco, California
Dates of Service: 1873 – 1897
Disposition: Sold in 1897
Displacement: 235 tons
Length: 155′
Beam: 22′
Draft: 9′ 7″
Machinery: Vertical cylinder, surface condensing steam engine
Complement: 8 officers, 31 enlisted
Armament: 2 guns of unknown type and caliber
Cutter History:
The Oliver Wolcott, also known simply as Wolcott, entered service on the west coast in 1873. She was built of white oak and yellow fir from Oregon and Washington, with bilge keels and iron-wire standing rigging. She replaced the cutter Wayanda and operated out of Port Townsend, Washington, as part of the Bering Sea Patrol.  Her crew deserted in 1882 for unknown reasons. In 1883, at the request of the British Columbia authorities, she was directed to be present at Fort Simpson, to prevent an "Indian outbreak." (Note: The Indians were Tlingit.) She was sold on 19 February 1897 to Joshua Green of Seattle, Washington, for $3,050.