USS Goff DD-247
By John Young (#L-8219)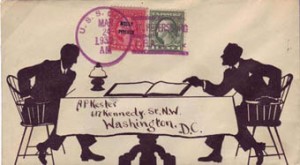 A pen & ink drawing of two men examining blank pages of a stamp album on the dining room table, probably done by someone known to A. P. Kester, Washington DC. Could it be FDR and Postmaster General James Farley deciding what stamps to issue during Roosevelt's first term? The cover is franked with the two cents "Molly Pitcher" overprint and a 1912 one cent Washington stamp. It's posted aboard USS GOFF with ship's type 5hks cancel on 24 MAR 1933 with wording ST. PETERSBURG/ FLA between killer bars. The addressee, A.P. Kester was charter member and cachet director of the CDR Gulliver Chapter #15, St. Petersburg FL being listed in the USCS Bulletin # 41 (June 15, 1934) A search of USCS records indicate both USCS #496 & #1473 for A.P. Kestor. He was issued Register Cachet Director #16. Looks like Kester rejoined USCS in November 1937. He's listed in Bob Rawlins' Cachet Catalog, but without illustrations!
This "Clemson" Class destroyer (No. 237) was named after the Secretary of the Navy, Nathan Goff, Jr., under President Rutherford Hayes (7 JAN- 4 MAR 1881). Built by the New York Shipbuilding Co., Camden NJ, the destroyer saw two periods of service: 19 JAN 1921- 13 JAN 1931 & 2 MAR 1932- 21 JUL 1945. GOFF served in European waters in 1922-23. GOFF was deployed with Scouting Fleet, the Special Service Squadron (1927), the Rotating Squadron Twenty (1932-35), in Cuban waters (1933) and with Squadron 40-Tare (Spanish waters) in 1940. She earned two battle stars during World War II, while performing convoy duty in the Atlantic theater. She was decommissioned in July 1945.