USS Fife DD-991
By Glenn Smith (#8073)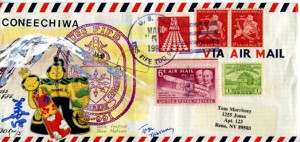 USS Fife was a Spruance class destroyer named for the WW2 submarine admiral, James Fife, Jr. Admiral Fife commanded three submarines, and his last WW2 post was as Commander, Submarines, Southwestern Pacific. Postwar he commanded all submarines in the Atlantic Fleet.
USS Fife was commissioned in May 1980, and served until February 2003. She was sunk in a live fire exercise by USS Russell DDG-59.
This cover celebrates Hina Matsuri, the Japanese Doll Festival, sometimes called Girl's Day in Japan. The Doll Festival is held on the 3 rd day of the 3 rd month each year. This cover was cancelled on March 5 th, two days after the actual festival. It also has a spelling error. The Japanese word for "good afternoon" is spelled in American as: konnichiwa not coneechiwa.
The cover is cancelled with a Fife Type 2-1(n) (USS) 1990. From 1988 to 1998, Fife was home ported in Yokosuka, Japan, and apparently her crew became much enamored with Japanese culture, as evidenced by this cover. The cover has quite a bit going on. Of course, there are dolls, which in Hina Matsuri represent the royal family. Mount Fuji is in the background, as is Fife's ship's crest. Apparently, Commander, Destroyer Squadron 5 was flying his pennant in Fife, since DESRON 5 is noted in the lower left. There is a colorful selection of stamps, and the cover is signed by cachet maker Tom Morissey (#10004).