USS Glacier AGB 4 – Amundsen Sea Coast Cancel
By John Young (#L-8219)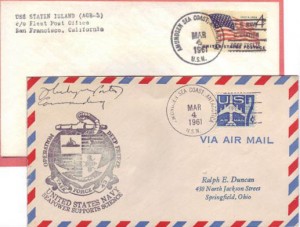 While surfing ebay recently I found an unusual cover that looked very suspicious.
It had a corner card from USS STATEN ISLAND (AGB 5) and it had penciled addressee, Rose Staco, Buda, Texas. More suspicion! It bore a heavy lined dial and killer bars of a one-day cancel used aboard USS GLACIER (AGB 4) during Deep Freeze '61.
For those familiar with polar history, both icebreakers participated in exploration of Antarctic's "Phantom Coast" in February- March 1961. According to ASPP' Ice Cape News (May 1961) 2,500 covers were canceled aboard GLACIER with this fancy (G-51d) on March 4, 1961. Most of these covers have the standard Task Force 43 cachet and few are autographed by her skipper, CDR Philip Porter, USN.
What's wrong with top cover?
It has a ship's corner card. Most covers from USS STATEN ISLAND (1953-65) never have any corner card.
The addressee was a fictitious name used by Richard Mayerson to obtain covers.
The fake cancel measures 3.1 cm while the real cancel measures 3.2 cm.
The fake cancel has heavier lines in the dial and killer bars, and wider lettering.
Most STATEN ISLAND covers were canceled on 23 FEB 1961 with its cancel
All mail from this deployment has a Task Force 43 cachet in red ink.
This collector has two Amundsen Sea Coast covers – the real cancel has thinner lines in dial, killer bars and lettering. The mail clerks aboard GLACIER applied cancels and cachet, but seldom will you see the ship's corner card.
Caveat emptor! Or April Fools.