USS Arkansas BB-33
By Steve Shay (L-10,821)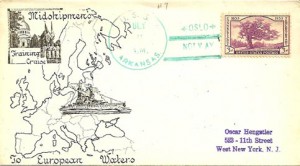 In June 1935, the battleship USS Arkansas embarked midshipmen from the Naval Academy for a summer training cruise. The future officers were probably thrilled with the adventure and sights that this cruise would bring. After a port call in Edinburgh, Scotland, the battleship proceeded to Oslo, Norway in July. During this port call, King Haakon VII of Norway would visit the ship. The ship then cruised to Copenhagen, Denmark, the island of Gibraltar and port of Funchal on the island of Madeira, off the coast of Morocco on the way back to Annapolis in August. It must have been quite exciting visiting these spots that most likely had never been to and most probably would not go back to.
At the time, the Arkansas had been in service for almost 23 years. During her service prior to this midshipmen cruise, she had participated in the action at Veracruz, Mexico in 1914, had helped train Armed Guard gun crews for duty on merchant ships during World War I and had acted as a reference ship guiding the flight of Navy Curtis flying boats from Newfoundland to Europe in May 1919. In 1923 she began the first of many midshipmen and reservist training cruises as a training ship. During World War II she would perform some convoy work and continue training duties. She was called on for bombardment duty off Omaha Beach on June 6, 1944 for the Normandy invasion and participated in the invasion of southern France in August. She would switch theaters and participate in the bombardment of Iwo Jima in February 1945. After the end of the war, she would serve as a troop transport bringing home the troops as part of Operation Magic Carpet. As a 30 plus year old battleship and no war, she was deemed to be of little value and was sunk during the atomic bomb testing in Operation Crossroads on July 25, 1946.
This cover marks the port call in Oslo on July 9, 1935. The ship's Type 3 cancel is not a perfect strike, missing the date year and the upper killer bar is missing. However the cover is not your average cover. This one was prepared by Oscar Hengstler (USCS #359) and is made from photographic paper with the cachet design printed on the paper using photo processing techniques. The paper was then hand folded into an open top envelope. The cover is made much like the Crosby-Beazell covers produced during 1932. Hengstler made a few such covers, most marking holidays and some are hand colored. I have a July 4, 1935 hand drawn and colored cover postmarked aboard the USS Brant, just 4 days prior to the cancel of this month's cover. These covers are not as well known as the Crosby–Beazell covers but they none-the-less represent an uncommon type of cover