USS V-2 SF-5
Donald R. Tjossem (USCS #L-10987)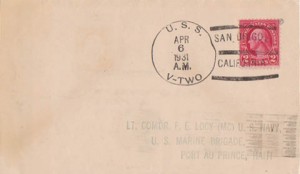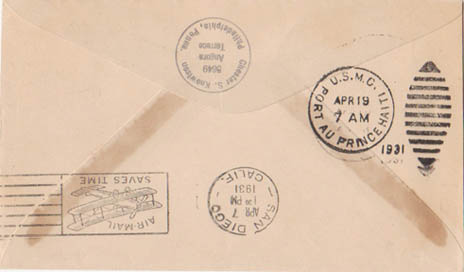 This cover was cancelled aboard the submarine USS V-2 on 6 April 1931 with a Type 3 cancel at San Diego, CA. V-2 was built at Kittery, Maine, given the hull designation SF-5 and was commissioned on 26 September 1925. SF stood for Fleet Submarine, a larger, more powerful submarine than the S boats currently in service. They were in part modeled after the German U-boats of World War I and were designed with long endurance in mind. Unfortunately the performance of these early fleet submarines was mediocre and did not attain their design speed on the surface or while submerged. V-2 was renamed BASS on 9 March 1931, less than a month before this cover was cancelled. She was also given a new hull designation on 1 July 1931 to SS-164, the designation change being made for all submarines. Bass was decommissioned on 3 June 1937. Sister ships BARRACUDA and BONITA (ex-V-1 and V-3) were also decommissioned in the first half of 1937. The class had served its purpose as the evolution of design continued. On 5 September 1940 she was recommissioned and was assigned to the Atlantic Fleet. BASS was then decommissioned on 3 March 1945 and was sunk as a target Southeast of Block Island, RI, in 155 feet of water on 12 March 1945.
This Type 3 cancel, dated 6 April 1931, franks a Scott # 599 2 cent carmine Washington (544), type I stamp. On the reverse side of this cover we see the machine cancel of San Diego on 7 April 1931. It is also cancelled on the reverse with a duplex hand stamp at Port au Prince, Haiti on 19 April 1931, indicating it took 12 days by surface mail from San Diego to Haiti.
This cover is addressed to Lt. Comdr. F. E. Locy (MC) U.S. Navy, at the U. S. Marine Brigade at Port Au Prince, Haiti. Dr. Francis Eastman Locy was the originator of the Locy system of classification of naval postmarks and is referred to as the "dean of naval cover collecting." In September of 1929 he was on duty in Haiti with the First Brigade U.S. Marines. Shortly after that he entered League Island Hospital as a patient and passed away on 28 August 1932 following several unsuccessful operations. He is buried in Arlington Cemetery.
This cover is stamped on the reverse by Chester Knowlson. He is USCS # 1444, ANCS #352 and was also Registered Cachet Director # 181 and belonged to the Stephen Decatur Chapter. He would serve as USCS President in 1941 for a short period before being called back up to active duty in the Navy. Knowlson purchased Dr. Locy's collection in an auction on December 9, 1938 and stamped the covers with his stamp to show ownership.