USS Belleau Wood CVL 24
By Steve Shay (L-10,821)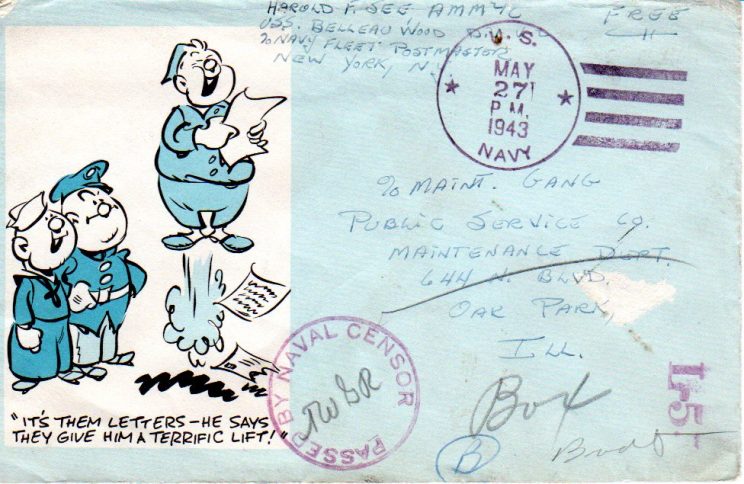 Here is a war time cover from a sailor that reminds us of how important letters were to those serving in the military during World War II. In today's world, e mail and mobile phones have almost replaced written letters to servicemen but in 1943, it was the written letter that brought news to a sailor. The cachet makes a subtle yet effective plea for letters.
The sender, an Aviation Machinists Mate 2nd Class was serving on the light carrier USS Belleau Wood, at the time, CV-24. The carrier was one of the carriers built on cruiser hulls, originally the USS New Haven when the keel was laid. Commissioned as the Belleau Wood on March 31, 1943, the carrier might have just completed her shakedown cruise or might have been getting ready to depart for Pearl Harbor when this cover was mailed on May 27, 1943. Her post office had only been established just over a month at that time. The cancel is the ship's Type 2z* cancel.
Perhaps the sender used to work in the Public Service Maintenance Department and he was writing old friends. With no specific person listed as the addressee, the cover was forwarded to a Box address. Hopefully the "Maintenance Gang" received the letter from their friend.
The carrier arrived at Pearl Harbor on June 26, 1943 and went to war. On July 15, she received the hull classification designation of CVL-24. She would participate in almost all the major engagements in the Pacific, earning 12 battle stars. She was one of the carriers launching her air compliment for the ceremony in Tokyo Bay on September 2, 1945. She finished up her career taking servicemen home on Magic Carpet trips.
She was transferred to the French Navy in 1953 and would participate in the Indo-China war and then in the Algerian War. She would be scrapped in 1960 after serving in three wars.