USS Colorado BB-45
By Steve Shay (#L-10,821)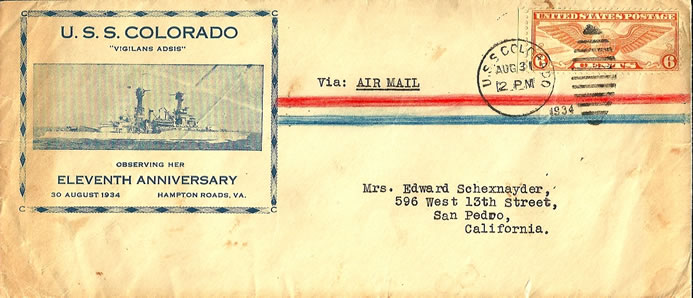 The USS Colorado was the lead ship of three battleships (Colorado, Tennessee, West Virginia) built as the Colorado class. A fourth ship, to be USS Washington, was laid down but was cancelled during construction. Colorado was launched March 22, 1921 and commissioned August 30, 1923. She was fitted with 8 16" guns.
A shakedown cruise took the new battleship to England, France, Italy and Gibraltar before being assigned to the Pacific Fleet in 1924. While with the Pacific Fleet, a 1925 cruise took her as far as Australia and Auckland. Fleet exercises took Colorado to the Caribbean in 1927 and again in 1934. In February 1935 she took part in searching for survivors of the USS Macon crash and in 1937 she led the search for the missing Amelia Earhart. 1939 found her back in the Caribbean for more fleet exercises.
With the outbreak of WWII in December 1941, Colorado patrolled the west coast and escorted ships between Hawaii and California, a task she continued through late 1943. In November Colorado was part of the bombardment fleet for the invasion of Tarawa. In January 1944 she again was part of the bombardment fleet, this time at Kwajalein and then in February, at Eniwetok. After an overhaul, she was again part of the bombardment fleet, now at Saipan. One month later, Colorado sustained heavy damage and 240 casualties from shore fire at Tinian.
After repairs in Bremerton, she returned to action, this time at Leyte Gulf in November where she was struck by a kamikaze, suffering 91 casualties. In December she participated in the bombardment of Mindoro and the following month in January 1945, at Lingayen. During March – May, Colorado was off Okinawa supporting the invasion.
Colorado was in Tokyo Bay for the surrender ceremony on September 2, 1945. She then participated in Magic Carpet runs bringing servicemen back to the United States until January 1946. She was placed in reserve in Bremerton January 7, 1947 and decommissioned March 1, 1959 and sold for scrap 4 months later.
The cover this month was likely printed aboard ship after exercises in the Caribbean where Colorado celebrated her 11th birthday while at Hampton Roads.