USS Cherokee (ATF-66)
By Glenn Smith (#8,073)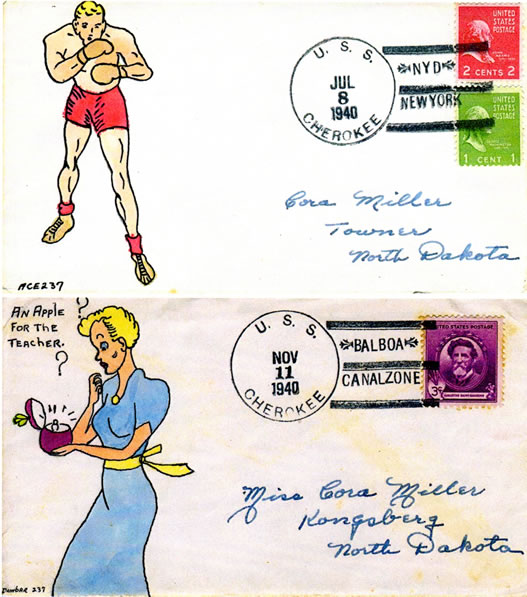 Art (and Love!)
Cachet art has always been a popular addition to naval covers. However, beginning in the 1930's, this art form "took off" when many new artists, both real and amateur, applied their work to naval covers in many new and creative ways. The cover this month illustrates the work of George S. Dunbar, who was a career sailor serving in the fleet ocean tug USS Cherokee ATF-66. At the time of these covers, he had been in the Navy for 14 years, and was a bachelor. These covers have letters enclosed, and from them a picture emerges of a lonely sailor seeking a life companion. The letters are to a single lady teacher in North Dakota. The art medium is pen & ink with watercolors.
The "boxer" cover is from July 1940 and the letter is clearly early in Dunbar's 'relationship" with Miss Miller. Is he 'fighting for her love?"
By November 1940, Dunbar's letter have 'warmed' considerably, even though he still has not met Miss Miller in person. He plainly indicates interest in a long term relationship, as evidenced by his letter and cover art.