USS Charleston (C-2)
By John Young (#L-8219)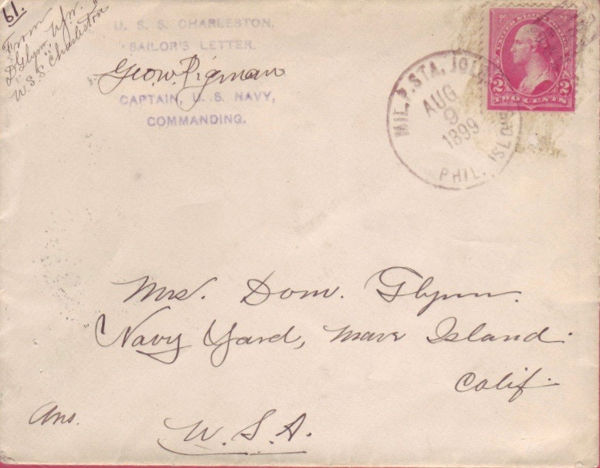 Letter from Ch Bos'n Dominick Glynn, USN to his wife, at Mare Island Navy Yard was mailed with postage has ship's Sailor's Letter marking and signature of ship's Commanding Officer, Captain George W. Pigman, USN. Note sender's address- upper left corner: from D. Glynn USN/ USS Charleston. Letter #61 had two cents Washington stamp affixed and canceled 9 AUG 1899 Mil Sta No.3, Iloio, Philippine Islands. Reverse: Rec'd pmk Vallejo CA, dated 23 SEP 1899.
A protected cruiser built by Union Iron Works, San Francisco and commissioned on December 26, 1889. Following the American victory in Manila Bay, CHARLESTON was sent to raise the flag in Guam (June 20, 1898) and arrived in Manila ten days later. She participated in the final bombardment of Spanish forces in Manila (August 13, 1898) and was present for their surrender. She remained in the Philippine Islands and provided support (gunfire) for the U.S. Army against the insurgents.
The cruiser was wrecked north of Luzon on November 2, 1899 with the Ship's crew abandoning ship to near-by Camiguin Island. Glynn and two other sailors took the ship's launch to seek help. USS HELENA (PG 9) rescued them on November 10, 1899.
Dominick Glynn died in October 1907, following complications after a stomach surgery at Mare Island Naval Hospital. He had been advanced to Warrant Officer by the U.S. Congress because his actions during the 1889 Hurricane at Apia, Samoa.