USS Capella (AK-13)
By Steve Shay (#L-10821)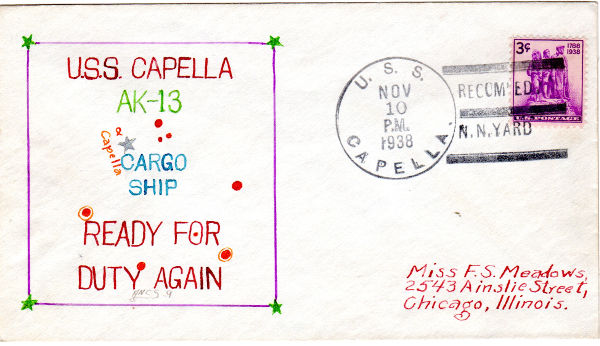 The cargo ship USS Capella was built as the SS Cormorant in 1920 and acquired by the US Navy in 1921 and renamed USS Capella. She carried cargo along the east coast and west coast for a few years, making one trip to Japan with earthquake relief supplies in 1923. She was then decommissioned in 1924.
She was recommissioned in 1938 and this Eugene Mueller hand drawn cover marks the recommissioning on November 10. Although note as artistic as Gow Ng hand drawn covers of the same period, Mueller covers are never the less usually colorful and are indeed hand drawn works of art.
Capella then continued carrying cargo along the east and west coasts.
During World War II she served in the Atlantic, supporting bases from Panama to Newfoundland. In 1944 she made trans Atlantic trips to Scotland and North Africa. She ended the war carrying cargo in the Mediterranean in 1945. She was decommissioned in November 1945.