USS Herbert DD-160
By John Young (USCS #L-8,219)
October 2008 Cover of the Month
Navy Day 1934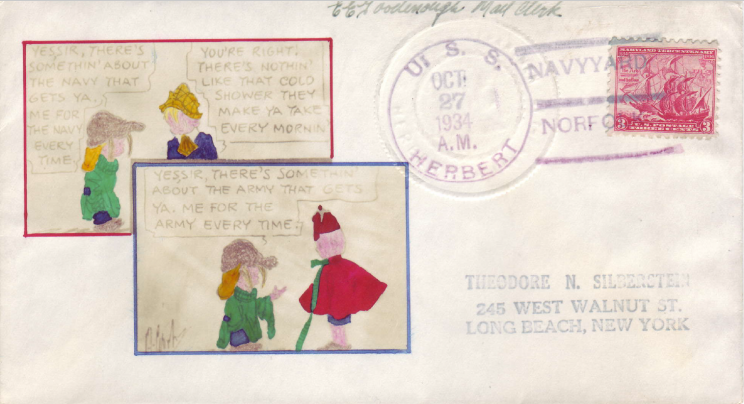 This unidentified comic strip appears on photographic paper, courtesy of B.C. Thomas, Weehawken (Union City), New Jersey. Thomas (USCS #252) would start the USS Bainbridge Chapter #18 and become its first president & cachet director (RCD #19). He would later provide ships with fancy cancels, i.e. AYLWIN (A-57a), BAINBRIDGE (B-9, B-9a), STURTEVANT (S-109), RALEIGH (R-1g, R-1h).
The hand-made envelope(s) were mailed to the destroyer for cancellation. Navy mail clerk, E.E. Goodenough serviced cover(s) with type 3s cancel 27 OCT 1934 and the ship's location, Navy Yard, Norfolk on Navy Day 1934. Goodenough applied embossed seal and his signature above cancellation. He served as mail clerk aboard the destroyer until May 30, 1935.
The "Wickes" class destroyer (No. 160) was named after Hiliary Abner Herbert, Sec'y of the Navy under President Glover Cleveland (1893-1898). Built too late service during the Great War, USS HERBERT saw two periods of active service (21 NOV 1919- 27 JUN 1922 and 1 MAY 1930- 25 SEP 1945). HERBERT served as a reserve training ship and was deployed with RON 40-Tare (October 1939- July 1940) in Spanish waters. She earned six battle stars for World War II service.
Can anyone identify the comic strip?