USS California BB 44
By John Young (#L-8219)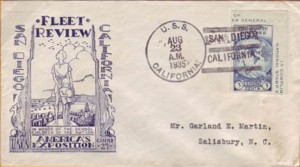 Its official name: the California Pacific International Exposition. Its location: San Diego. Time: May 29 – November 11, 1935 and February 12- September 9, 1936. Its purpose: to promote San Diego, California. A stamp commemorating the exposition was issued (Sc #773) having its first day of issue on exposition's opening day. Some possess unofficial first day covers, posted aboard USS DALLAS (DD 199)
The fleet arrived on June 11, 1935 with 58,000 officers and enlisted men. It was the largest concentration of naval ships to anchor or dock in San Diego. FDR arrived at the exposition, holding a fleet review on October 2, 1935. Many of the Expo buildings or reconstructed versions remain in use today- serving as museums and theaters in Balboa Park.
Seventy-five years ago, the U.S. Fleet participated in Fleet Problem XVI, taking part in Pacific fleet maneuvers from Hawaiian to Alaskan waters during May- June 1935. We all have covers documenting their movements, either produced by USCS chapter or ANCS crews. An earlier election had caused a bitter rivalry between both organizations, but the cachet collector was the winner with some many great cachets.
By June, 1935 collectors in the San Diego area had formed Chapter #27 named after the armored cruiser lost during the Great War in 1918. The chapter's officers included Harry Little (Prez), Harold Noble (VP) and James Reading (Sec'y & cachet director.) It was a very active chapter, producing several cachets including printed cachet for "Fleet Review" cover, posted aboard USS CALIFORNIA on August 23, 1935.
While visiting collector Bill Boss recently, I found that USCS member, John Noble USCS #10761 and his sister Marian were the models used by San Diego artist, Willard N.Watson for the chapter's "Fleet Review" cachet. The drawing depicts the Noble children standing above San Diego's buildings and warships entering the San Diego area.
The battleship (BB 44) was launched at Mare Island Navy Yard in November 1919 and commissioned in August 1921. She served as Flagship, Pacific Fleet (1921-41) and was moored on "Battleship Row" when the Japanese launched their aerial attack on Pearl Harbor in December 1941. CALIFORNIA earned seven battle stars for her World War II service. Nicknamed "Prune Barge" because she was the only battleship built on the west coast. She was decommissioned in February 1947, after having been reserve status at Philadelphia Navy Yard in August 1946.