USS Black Hawk AD-9
By Steve Shay (L-10,821)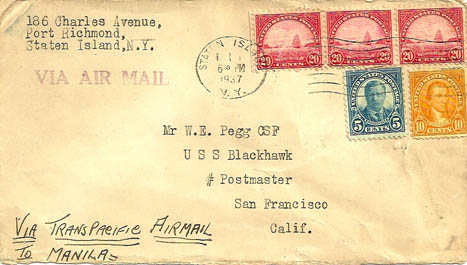 The cover this month is an example of Transpacific air mail, a cover carried by a Pan Am Clipper plane. Postmarked at Staten Island, New York in March 1937, it was mailed to the destroyer tender USS Blackhawk, AD-9, on service at that time in the Asiatic Fleet, based in Manila, Philippines.
The cover would have traveled by the fastest way possible from New York to Alameda, California, the site of the Pan Am Clipper Base. There it would have been placed aboard a Clipper plane, a Martin M-130. The Martin could carry 46 day passengers or 18 to 30 passengers with overnight berths for sleeping. Pan Am owned 3 of these planes, named the China Clipper, Philippine Clipper and Hawaii Clipper. Flying aboard these planes was for the rich and service was unparalleled. The plane would have departed Alameda for Honolulu. After arrival in Honolulu the plane would then fly to Midway with an overnight stop, then to Wake, from Wake to Guam and then from Guam to Manila. Pan Am schedules showed that transit time to Manila was 8 days and a savings of 25 days versus surface mail. Flights occurred weekly after January 1936.
Getting this mail service was not inexpensive, the rate from the US to Manila was 75 cents per 1/2 ounce. But for something important, being able to shave 25 days off the transit time and having a letter arrive in 8 days was revolutionary. Pan Am really opened the world to both passenger travel and to mail service.
The USS Blackhawk was built in 1913 and purchased by the US Navy in 1917 and commissioned in 1918. She served as a tender in Scotland during World War I, followed by service in the Caribbean and Panamanian waters. In June 1922 she was transferred to the Asiatic Fleet where she would remain serving the fleet for the next 20 years. Blackhawk would service the destroyers of the Asiatic fleet during the last days of the fleet in the Java Sea in early 1942. These destroyers included the USS Edsall, USS Stewart, USS Pope, USS Pillsbury, USS Peary, ships that were lost during the battles in this area. Blackhawk would go on to serve in Alaskan waters during the remainder of World War II and would be decommissioned in August 1946.
The cover was mailed to Chief Shipfitter Walter Everett Pegg. Pegg was a cover collector, joining USCS in January 1936 as member #1084. He served for 15 years in the Asiatic Fleet and passed away in 1983.