USS Black Hawk (AD 9)
John Young (L-8219)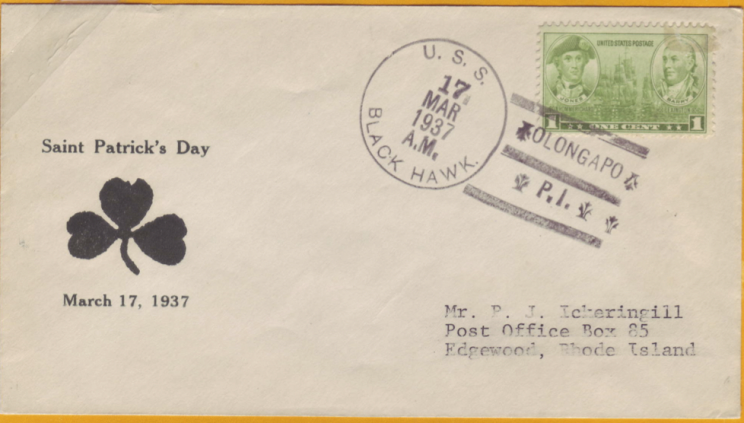 An interesting printed St. Patrick's Day cachet feathering the shamrock used by St. Patrick to explain the Holy Trinity (Father, Son & Holy Spirit) to the Celtic pagans in Ireland. Reverse has 2LK/ ARCHIE J. LANCE/ ANCS 504. More interesting is that the cover is franked with one cent Navy issue (Sc #790) when it posted aboard the destroyer tender on 17 MAR 1937 with ship's location OLONGAPO (Luzon Island)/ P.I. in killers.
The stamp paid the postcard rate not the first class rate (3 cents) or printed matter rate (1½ cent) used by cover collectors during this period. Cover was mailed to "Pee Jay" Ickeringill under separate cover or the USPO neglected to mark or collect postage due of two cents.
Built as S.S. SANTA CATALINA (1913), she was purchased by the U.S. Navy in December 1917. Commissioned USS BLACK HAWK on 15 MAY 1918, she served as a repair ship and flagship for the U.S. MINE FORCE in Inverness, Scotland until the ended of the war and shifted to Kirkwall, Orkney Islands for the North Sea mine sweep. Ship's compliment: 48 officers, 737 enlisted men.
After returning home in November 1919, she served as tender for the reserve destroyers at the Philadelphia Navy Yard. Designated Destroyer Tender #9 in November 1920, when all naval ships received hull numbers. She was deployed with Asiatic Fleet, serving as Flagship DESRON 5 (1922-40) & DESRON 29 (1940-42). Having been at Balkpapan, Borneo when the Japanese attacked the Philippines, BLACK HAWK served in Australian waters until 1942. Returning to Pearl Harbor, she served in Alaskan waters during most of World War II, earning only 1 battle star.
BLACK HAWK returned to the Far East, tending to ships first at Okinawa and then in China until May 1946. She was decommissioned on 15 AUG 1946.