USS Beaver ADS-5
By Steve Shay (#L-10,821)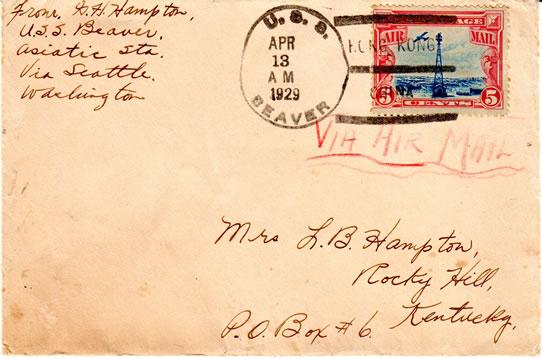 The USS Beaver was an early sub tender, receiving hull designation AS-5 in 1920. She was originally built as a passenger steamer, then purchased by the Navy and converted to a sub tender in 1918 at the Mare Island shipyard in California. She performed tender duty in Panama, at Pearl Harbor and then on the East Coast. Her duties later took her to Alaskan waters and Caribbean waters before being assigned to the Asiatic Fleet in 1925. Her duty in the Asiatic Fleet was to tend submarines of SubDiv16 in Philippine and China waters, alternating between the two as influenced by monsoon seasons. She often called on the major ports of China, including Hong Kong.
This cover was mailed April 13, 1929 while she was in Hong Kong. Cancelled with the ship's Type 3(B) cancel, the cover is franked with airmail postage of 5¢ with a hand written notation "Air Mail". There was no transpacific airmail service in 1929, that would not come until late 1935. In the case of this letter, it was carried from Hong Kong to the continental US via surface ship, likely making port in San Francisco, Seattle or Los Angeles. From that point, the cover went into the mail stream and was carried by plane to the recipient in Rocky Hill, Kentucky. Airmail route CAM-16 carried mail from Cleveland, Ohio to Louisville, Kentucky. From there the mail would have likely been routed via truck or rail to Rocky Hill, a trip of about 100 miles. The rate of 5¢ covered up to one ounce, a rate that went into effect on August 1, 1928.
It seems a little odd that a sailor would pay 5¢ to save a couple of days of mail transit time once the cover arrived in a west coast port after spending what was surely several weeks transit across the Pacific Ocean. For 2¢, the cover would have been carried via surface mail all the way to the recipient.
Beaver had a long life, servicing subs around the world, including tending service during World War II. In June 1945 she was converted to an internal combustion engine repair ship and designated ARG-19. She was decommissioned July 17, 1946 and scrapped in 1950.