USS Bairoko CVE-115
By Steve Shay (#L-10821)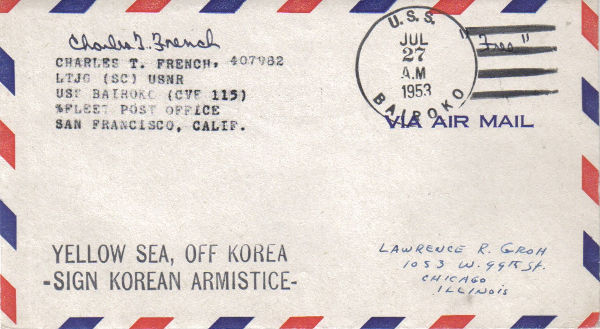 The Korean War began June 25, 1950 when North Korea invaded South Korea. The United States was one of 21 countries from the United Nations that contributed forces on the side of South Korea. The war was a back and forth fight with land exchanging hand many times in some cases. The war was primarily a ground and air war but there were naval forces providing support with bombardment of enemy forces and installations and aircraft carriers providing air support for bombing.
USCS member Chuck French, a member of the Naval Reserve, was called to active duty during the conflict and was assigned duty as the disbursing officer aboard the escort carrier USS Bairoko. He prepared 2 different covers marking the end of the Korean War on July 27, 1953, one of which is the cover of the month. This cover is addressed to a fellow USCS member, and friend of Chuck's, Larry Groh.