USS Bainbridge DD -246
By Steve Shay (#L-10821)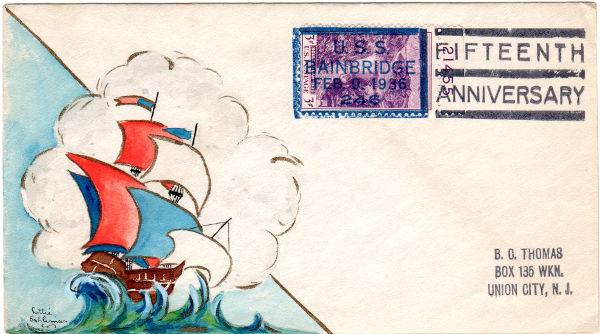 The USS Bainbridge was a Clemson class destroyer built as part of the World War I naval build up. She was launched in 1920 and commissioned February 9, 1921. She served in the Caribbean area and like many other destroyers of the period, she was put into reduced commission and reserve. She returned to full commission in 1934 and continued service in the Caribbean and in November 1934 was transferred to the Pacific. Between December 1941 and July 1945, Bainbridge performed convoy escort duty in the Atlantic and Caribbean. She was decommissioned July 21, 1945. The destroyer received one battle star for service in World War II.
This Type F cancel had a one day usage on February 9, 1936 on the 15th anniversary of the commissioning of the ship. It was used after that date but without the bars.
The hand painted cachet was drawn by Lottie Eshliman. She was USCS #262 and lived in Southern California and prepared cachets for the Admiral Reeves Chapter of the USCS. Her beautiful cachets often were prepared for holiday events.