USS Augusta (CA-31)
By Steve Shay (#L-10,821)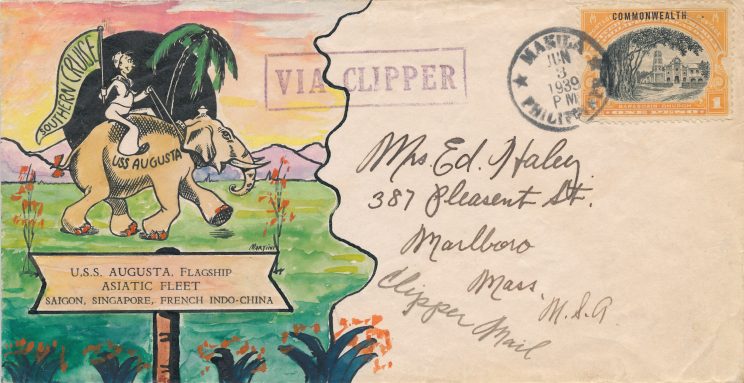 The cruiser USS Augusta became the flagship of the Asiatic Fleet on November 9, 1933 and served in Asiatic waters until November 1940. During her time there she made many interesting port visits outside of her "normal" homes of Shanghai in China and Cavite in the Philippines. These ports included Yokohama and Kobe, Japan, Sydney and Perth, Australia, Batavia, Bali, Hong Kong, Singapore, Vladivostok and many of the ports in China and the Philippines. If you were a crew member during this time, you truly "saw the world" and visited places most people had never even heard of.
She was in China waters when relations between Japan and China became strained and hostilities broke out.
In early 1939, she took a cruise to the Southeast Asia area and visited Singapore, French Indochina and Siam. This ship board printed cover was mailed by a sailor on Augusta from Bangkok, Siam on March 13, 1939. The cachet was drawn by a printer on board, Martini.
After this cruise, she remained in China waters and was relieved as flagship in November 1940, replaced by USS Houston. She sailed for Mare Island and reassignment.
After repairs and refit, she was moved the Atlantic fleet where during the war, she participated in Operation Torch and the Normandy invasion, ultimately serving in Operation Magic Carpet bringing home servicemen from Europe before being decommissioned in 1946.