USS Pennsylvania
By Steve Shay (USCS #L-10,821)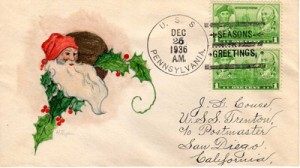 Christmas has always been a favorite holiday for cover collectors, cover artists and cover sponsors. During the golden years of naval cover collecting in the 1930's, Christmas covers were very popular. Christmas provided a colorful event to draw a cachet for. The cover this month was hand drawn by Helen Dye of Los Angeles. Helen was USCS member #520 and she drew some wonderful covers marking holidays between 1936 and 1939. The cachet features jolly old St. Nicholas and holly leaves and berries, very traditional Christmas symbols.
The cover is addressed to another cachet artist, J.L. Couse, a sailor aboard the USS Trenton in 1936. Couse also served on USS Artic and later on USS Mahan. His cachets marked several types of occasions and holiday events were one of the events he liked to honor.
The cover was cancelled aboard the battleship USS Pennsylvania and the postal clerk complied with the request to postmark the cover on Christmas and he added a little seasonal cheer himself, with "Seasons Greetings" in the killer bars. The Pennsylvania had been in commission 20 years in 1936, she would survive the attack on Pearl Harbor, served during World War II and was used as a target during the atomic bomb tests at Bikini Atoll in July 1946.
On this page is another Christmas cover. At first glance it is obviously not a naval cover but the name of the sender, Marshall Hall shows a naval cover collector had his hand in this cover. Marshall was USCS member #10 and also ANCS member #10. Marshall broke away from USCS in 1935, the year this cover was created for, and formed the ANCS, the American Naval Cancellation Society. The cachet was drawn by another naval cover collector, C. Wright Richell, USCS member #251 and ANCS member #6. Richell and Hall worked together on other covers too. Richell and Hall each were presidents of ANCS.
This cachet definitely shows a naval cover influence, note that some of the cachet designs feature anchors and life preservers.