USS Tarpon SS-175
By Don Tjossem (#L-10987)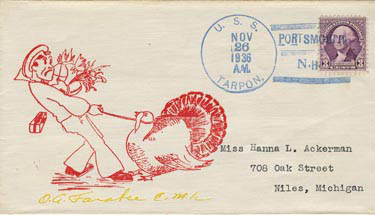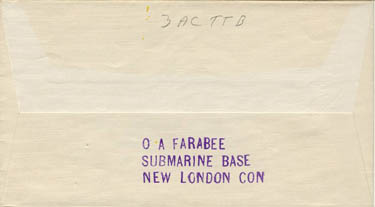 November 2007 Cover of the Month
This cachet, cancelled aboard the USS Tarpon on 26 November 1936, shows a reluctant turkey being taken to a Thanksgiving dinner. This cover was designed and serviced by O. A. Farabee, USCS # 661 and ANCS # 210. Below the rubber stamped cachet is the signature of the artist signed in light yellow ink.
Cachets drawn by Mr. Farabee are somewhat uncommon as he only designed them during the year 1936. His sponsoring activities ranged from 1934 through 1938, while he was stationed at Submarine Base New London, Connecticut. The reverse side of this cover was his typical stamp when he serviced a cover. Much of his philatelic activities were done in conjunction with R. E. Hagenmiller (not a USCS member) and F. P. Hollis (USCS # 1214 and ANCS # 409).
This Type 3 cancellation is tied to a Scott # 720 3 cent stamp with Portsmouth, N.H. in the killer bars. The date in the dial is 26 November 1936 with the time being shown as A.M.
TARPON (SS-175) was the second named such and was commissioned on 12 March 1936. She operated initially out of San Diego and Pearl Harbor with Submarine Division (SubDiv) 13 before going to the Philippines at Manila.
TARPON started her first war patrol two days after the Japanese attacked Pearl Harbor and had an illustrious World War II career, completing 11 War patrols and receiving seven battle stars for her service.
Her last war patrol in the Pacific during WWII TARPON was put on lifeguard duty in the area of Truck. Early in 1945 she was sent to the east coast and finished her career as a Naval Reserve training ship. She was later sunk as a target southeast of Cape Hatteras, N.C. on 26 August 1957.