USS Cachalot, SS-170
By Steve Shay (#L-10,821)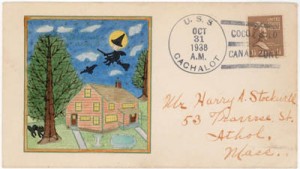 October 2007 Cover of the MonthWitches, bats and black cats. It must be Halloween! This colorful hand drawn cover was produced by William Linto in 1938, his 79 th numbered cachet. It is estimated that he produced over 5,000 cachets. He produced covers cancelled aboard naval ships, patriotic cachets, political cachets, first day of issue cachets and historical cachets to name just a few subjects. His early covers were hand drawn in quantities of around 100 per design but Linto must have soon realized he could never keep up that pace and he shifted to printed cachets right around the time of this cover. Can you imagine the time required to draw or letter 100 covers, producing 1 or 2 designs just about every month?
Linto's design #79 had a total production of 108 covers, each are numbered on the back of the cover. This design was cancelled aboard the USS Whippoorwill, autographed by US Navy Mail Clerk Jimmie Allen or aboard the USS Cachalot, as this example is.
The Cachalot was originally launched in 1933 as the USS V-8, Submarine Cruiser number 4 (SC-4) but was renamed Cachalot and assigned SS-170 as her hull number. As was typical for submarines of the era, Cachalot engaged in fleet problem exercises and training with other ships working on antisubmarine tactics, as well as working on her own attack and evasion tactics. She served in the Caribbean and Canal Zones, in fact this cover is cancelled aboard when Cachalot was at Coco Solo in the Canal Zone. In 1939, Cachalot transferred to Pearl Harbor where she was tied up on December 7, 1941 undergoing an overhaul.
Both Cachalot and sister ship USS Nautilus engaged in patrols to conduct reconnaissance of islands recognized by the Navy as long term objectives. Cachalot visited Truk and Eniwetok during her first patrol at a time when intelligence on Japanese held islands was sorely lacking. On her second patrol Cachalot was in the Japanese home island area where she damaged an enemy tanker. Her last war patrol during September 1942 found her in the Bering Sea supporting the Aleutians campaign after the Japanese invasion occurring in June 1942.
Cachalot spent the rest of the war as a submarine training ship at New London, Connecticut. The Gato and Balao class submarines were much better designs for taking the underwater war to the enemy. The idea of a submarine cruiser, a sub mounting large caliber guns, may have been a good idea at the time but the idea of a surfaced sub slugging it out with large guns doesn't sound too appealing. Cachalot was decommissioned October 17, 1945 and sold for scrap in January 1947.