Robert Quintero, USCS #3893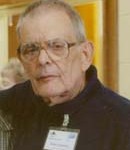 Robert (Bob) has been very active in naval cover collecting, printing over 200,000 covers with over 350 printed cachets. He also produced around 65 rubber stamp cachets as well as hand drawn covers featuring his "Q-maids", Quintero mermaids. How did all this come about?
Bob was born in 1928 in Michigan and raised in Detroit. His dad was the Vice President of Foreign Operations for Parke-Davis & Company, speaking 13 languages. He introduced Bob to the world and to the world of philately when he gave him his first stamp album at age 12. Bob graduated high school in Detroit and attended Wayne State University, graduating with a Bachelor of Arts degree in Geography. He served in the Army with the 19th Infantry, 24th Division in Japan 1946-1948 and with the 398th Military Police Battalion 1949-1952 stationed in the US, achieving the rank of Staff Sergeant.
After getting out of the service, Bob started at Parke-Davis & Company in 1949, where he'd stay through 1967, working as the Supervisor of Capsule operations for the pharmaceutical company. He moved to the General Motors Institute in 1968 and retired in 1998 as Operation Manager for US & Canada. He also started a family and would have 3 sons and 2 daughters, 8 grand children and 8 great grandchildren at last count. A second marriage in 2005 to wife Patricia added a stepson to the family. His interests outside of philately include flower gardening and visiting military historical sites.
Somewhere along the line, Bob's philatelic interests expanded to include naval covers. While corresponding with a geographer on Ice Island T-3, he received a letter back with the USS Sea Dragon's cachet, starting a long interest in subs. His interests include Arctic operations, submarines, Arctic above the 60th parallel, military APO's, First Day Covers, worldwide subs on stamps, tanks and military on stamps/covers/cancels for 2 sons and Norman Rockwell on stamps/covers/cancels for his wife. Bob joined the USCS in September 1960 exposing him to the naval hobby and this eventually led to our members learning of his covers and desire to spread the knowledge of the hobby.
Bob founded the USS Michigan Chapter of the USCS and began producing all those covers. Bob and the chapter became involved with USS Michigan and produced the rubber stamp cachets for the sub. Bob says that Paul Huber once told him when filling his want lists "The things you still need either don't exist or are so rare, they exist in only a few collections. I guess you will need to wait until they are passed along." He has since disposed of most of his naval collection and is no longer active in producing cachets but he maintains an interest in the Navy and in philately.
Among the names people that Bob met through the years that he found interesting were General Curtis LeMay, General Paul Tibbets, General Chuck Yeager, Admiral Rickover, President Ford, Jimmy Hoffa and the first 4 Commanding Officers of the USS Michigan.
Bob has exhibited at local shows where he received 4 Grand and 15 Gold medals and 17 Most Popular Awards. On December 9, 2007, Bob was honored by the Motor City Stamp Club for his many years of service to the club and his involvement in their annual stamp show. USCS member Paul Anderson (#10830) nominated Bob for the Member of the Month selection.
By Steve Shay (#L-10,821)