Kay Neuthor, USCS #8466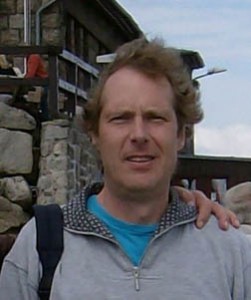 There once was a little boy. He stood on the shore of Kiel Fjord, the bay which leads into Kiel harbor. He watched as the big naval ships sailed out from the harbor on their way to the Baltic Sea. They were gray like the water, slender and sleek. No bow wave was to be seen. The churning wake testified to the concentrated power in these ships. He noted the big "D" (which designates a destroyer in many navies) at the side of these interesting ships. The boy saw these vessels often as he was frequently on this beach. These sights developed into an enthusiasm for these ships about which he knew (at that time) almost nothing else.
The big ships were the six Fletcher-Class destroyers which the German Navy (Federal Republic – "West Germany") had taken over from the U.S. Navy at the beginning of the 1960's.
Looking back, this was many years ago. Much has happened in the meantime.
About myself: I attended secondary school in Kiel and at the age of 15 years old attained my Mittlere Reife (a school-leaving certificate in Germany that is roughly comparable with the American high school diploma). At the age of 16 I decided to become a police officer. For the next three years I attended police school and following that I trained with a riot police unit in Kiel. At the age of 19 I was assigned to a Kiel police station where I spent practically all my professional career. I first did patrol duty. Later, I became a specialist on criminal offenses.
In 2005 I suddenly became ill. Strong dizzy spells made it impossible to practice my profession any more. I was diagnosed with Ménière's Disease , an inner ear illness which is not curable. In 2010 I retired from the police force.
In 1986 I met my (now) wife Gabriela. We married in 1988 and four years later, in December 1992, our son, Sebastian, was born. In 2000 we bought a house in Kiel where we were happy for many years. In 2010 we had to sell the house because I was not able on account of my illness to maintain the property any more.
My collection of U.S. Navy covers developed from stamp collecting in my youth. In the mid-1970's I met Horst Rommel from Schonach (in the Black Forrest region of Germany). Many veteran members of the USCS will certainly remember him. Horst passed away after a short but serious illness in 1992.
Horst helped me take my first steps into the field of U.S. Navy ship postmarks. He taught me to understand the details of the hobby with all its facets. He shared his knowledge about the different postmark types with me. He also introduced me to the details of collecting, such as how to prepare an exhibit, etc. I owe him a lot. To me, Horst Rommel remains a standard unequalled in his knowledge and willingness to share which will always remain with me as one of my best memories.
My primary area of collecting interest is, of course, destroyers. My enthusiasm for these ships has never waned. I have gathered a fairly comprehensive collection of destroyer covers over the years. Other collecting interests include covers from aircraft carriers, battleships and heavy cruisers of the U.S. Navy.
My primary interest is the documentation of post offices aboard the ships and the different cancel types. It is also important to me to tie covers to historical events – an activity that I find extremely instructive – this often brings unexpected historical connections and knowledge to light.
I am also a member of the Graf-von-Spee Chapter #65, a member of postmark study group and a member of the Kiel Philatelic Association. For many years I have been a regular contributor to the circulars of the postmark study group.
I share my knowledge of U.S. Navy postmarks through several mediums. I find it important to share my understanding of this interesting collecting topic with my fellow German collectors. There are many collectors in Germany who are interested but are not comfortable in the subject as they lack linguistic proficiency in English. I help in overcoming this.
The Internet and its advantages has made collecting U.S. Navy cover much easier in recent years. Meanwhile, I have developed many collecting contacts in the United States through the USCS. I would like to thank those who have helped me in my collecting activities. I hope to preserve my existing contacts and add others.
Note: The German name Kay is pronounced to rhyme with the English word "tie."