Marine Detachment, Tientsin, China
By Glenn Smith, #8073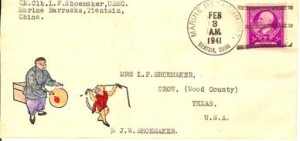 July 2007 Cover of the Month
This cover was mailed from Quartermaster Clerk L. F. Shoemaker, a Marine with the Marine Detachment, Tientsin, China (now known as Tianjin). The letter was posted in early 1941 apparently to his wife at home in rural Texas.
The cachet appears to be hand drawn, and shows a street vendor with his monkey. Many old China hands would be familiar with this kind of sight on any street in the China of that era.
At a time when Shanghai was only a small, unremarkable town among the paddies along the Huangpu River, Tientsin was already a vibrant ancient walled Chinese city. The city is situated about 37 miles up the Peihao River from the ocean at Taku and approximately 80 miles from the capital at Peking (now Beijing).
World War Two began in China July 7-8, 1937 with the Marco Polo Bridge Incident near Peking. As a result Japan invaded Northern China from its puppet state, Manchukuo (Manchuria). Within a few short weeks Japan controlled most of Northern China. On July 29, Japanese air forces bombed and destroyed most of Nankai University to discourage the students who were anti-Japanese. Japanese forces occupied Tientsin July 30, 1937.
With its protecting mission now compromised by Japanese forces, the US Army's 15th Infantry departed from Tientsin on March 12, 1938 after a 26 year stint representing American interests in the region. It was replaced by a small U.S. Marine detachment (49 officers and men) guarding the Consulate-General and showing the flag. The Marines stayed at Tientsin until ordered out on November 14, 1941, essentially leaving control of all of the old foreign concessions in the hands of the Japanese.