USS Henley DD-391
By Steve Shay (#L-10,821)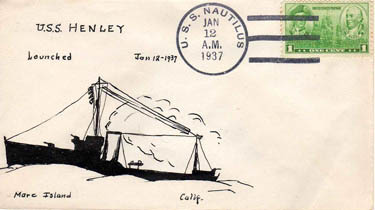 Early January 2008 Cover of the Month
The cover this month marks the launching of the destroyer USS Henley, DD-391. Henley was launched at Mare Island Navy Yard in Vallejo, California on January 12, 1937. The cover was cancelled aboard the submarine USS Nautilus, (Type 5hks cancel,) another Mare Island built ship, on this date. The cachet was hand drawn in pencil and then inked in with a fountain pen. Unfortunately, the design is not signed and there are no notations on the cover to learn who the artist was. The ship profile is not completely accurate for the Gridley class destroyer, but it is close enough to get the general idea. At any rate, it is a nice cover and likely a one of a kind.
The USS Henley would lead a short life. After commissioning on August 14, 1937, Henley led a quiet life as part of the Pacific Battle Force. She joined the fleet at Pearl Harbor in April 1941 and was moored in the East Loch there on December 7. Henley was one of the first destroyers to get underway, charging out of the channel after a reported submarine. Like many ships that day, her Commanding Officer and Exec were ashore so she was conned by a junior lieutenant that day. She dropped depth charges on a sonar contact, possibly one of the Japanese midget submarines. Her machines guns were credited with shooting down one dive bomber and shared credit for another.
Henley served as an escort during the aborted effort to reinforce Wake Island and later patrolled the Midway – Pearl Harbor convoy lanes. During the Battle of the Coral Sea, Henley participated in the rescue of the crew of the damaged USS Neosho on May 11. She fired 2 torpedoes into the Neosho to prevent the tanker from falling into enemy hands. One was a dud, the other failed to sink the ship. Henley then fired 146 5" rounds into Neosho before she went under. When the USS Saratoga sailed from San Diego June 1, 1942 with a load of replacement planes, Henley served as part of the destroyer screen. She next sailed south to Australian waters where she served in convoy and antisubmarine duties. On July 22, 1942, she sailed north, escorting troop transports to Guadalcanal. When the troop landings were made, Henley served on antisubmarine duties in the offshore waters. Later she returned to Australian and New Guinea waters, serving on plane guard, convoy duty and antisubmarine patrols until September 1943.
During the landing of Australian troops on New Guinea in September 1943, Henley served as part of the screening force. 10 Japanese torpedo bombers attacked the destroyer on September 21 and she shot down 3 of them. Less than 2 weeks later, the Japanese submarine RO-108 spotted Henley and fired 3 torpedoes. The third struck the ship and broke her keel and she went down stern first. 18 officers and 225 men were rescued with 1 officer and 14 men missing.