Chuck French, USCS #L-2603

It is appropriate that this year the USCS honors the 60th Anniversary of the 1946 Bikini Atom Bomb Test, as that's the event that got me really "gung ho" into the hobby of collecting naval covers. I'd started collecting first day covers the year before, while a junior in high school in Chicago.
I'd serviced my own covers and sent Ken Boll cacheted covers to the various first day cities. In January, 1946, the stamp dealer that I'd purchased covers from, showed me my first naval cover that he'd just received – a T-2(n) from the USS California. He said that this had been a quite popular hobby field prior to our entering WW2, but with many collectors entering the service and no more name cancels; the hobby had sort of withered on the vine. He suggested my reading a new column by Bob Altman, in COVERS magazine that stimulated new interest in the hobby, what with the name cancels reappearing. Altman's column mentioned the ANCS and the new Victory Edition of Fahey's "Ships and Aircraft of the US Navy" – which became the "bible", as to names of ships to send covers to.
I joined the ANCS, but wasn't very impressed with their "Navigator" newsletter.
In 1947, I found out about the USCS, and that they had an active chapter in Chicago, so I joined. I contacted Ray Milling, as he lived the closest to me. (I would later visit Ray Milling on Guam, where he lived, in the 1970's, while on business there). He encouraged me to join the Moffett Chapter and offered to drive me to the monthly meetings, which were great fun and highly educational to this young kid. I met many a fine gentleman in that group, including Larry Groh, Bob Mathews, Calvin Seabold, and Robert Wenholz. I recall at one meeting, the main speaker was a sailor who had been on the USS C-3, during its transit of the Panama Canal, in 1919. He had a few of the commemorative covers with him, which he sold for $1 a piece. I fortunately picked one up (which I still have.)
It came as a shock to me when the Chicago Tribune had banner headlines one day in early 1946, announcing the Atom Bomb Tests at Bikini Atoll. I scoured the newspaper for the names of the target ships and the support ships. I bought some cacheted covers and sent two a piece to each ship's naval mail clerk requesting a last day of postal service for the target ships and a detonation day cancel from the support ships. It was an exciting time with much press coverage and various magazines having lead articles on the event.
In the 1980's, I believe, there was a documentary movie released, entitled "Radio Bikini", that had more interesting film coverage than anywhere I'd ever seen about the whole operation and its aftermath, portraying it very, very negatively. It is available on DVD.
While still in high school, I was so "gung-ho" Navy that I joined the Naval Reserve the day I turned 17. I attended Reserve meetings at Navy Pier and had my first cruise aboard the USS PC 1216, across Lake Michigan, over the 4th of July Weekend.
In late summer 1947, I had a two-week Reserve Cruise on the USS Rochester (CA 124). As it left from Philadelphia, I visited ANCS president Glenn Dye, where he lived at the time. That visit was quite an education for me, but that's a story for another time.
The next two years I attended Beloit College, in WI, and continued attending USNR meetings. I then transferred to the University of IL, and joined the new USNROC program for college reservists. I spent six weeks the next two summers in USNROC training at Newport, RI and San Diego, CA. Upon graduation, in 1951, I received an Ensign Commission in the USN Supply Corps.
The Korean War was in full furry, so I was called to active duty at the USN Supply Corps School, in Bayonne, NJ. Unfortunately, my LOG was still being sent to my home in Chicago, so I didn't know about the 1952 USCS Convention being held in July, in Newark – just a few miles up the road. How I would have loved to have gone there and met the members of those days. However, there were interesting events I did see while at Bayonne – the arrival of the new liner SS UNITED STATES into New York, with water canons being used by the escorting fire boats and other various water boats and yachts, quite a memorable sight and also the bow-damaged USS WASP came to the Bayonne drydocks, for repairs after accidentally sinking the USS HOBSON (DMS 18).
From Bayonne, I was assigned as the disbursing officer, aboard the USS BAIROKO (CVE 115), in drydock, at the Long Beach CA, Naval Shipyard. The BAIROKO was in the Yellow Sea, off Korea, when that war ended, on July 27, 1953. I was able to create some cacheted covers for the event and had the PC cancel them. I haven't seen any other such covers, unlike V–J Day. Upon return to the US, I was assigned to COMSERVRON ONE, aboard the USS AJAX (AR 6), at the 32nd St. pier in San Diego.
The BAIROKO next went on to the H-Bomb Tests at Eniwetok. It got hit by radioactive fallout and was depicted on a Colliers Magazine front cover, showing all the newly installed shower heads spraying water all over the ship's entire super-structure.
I liked southern CA enough to make me stay upon release. I returned to active naval cover collecting and utilized Taze Nicholson's and Morris Beck's cover service. I looked up some USCS members in the LA area and restarted the Adm Reeves Chapter. Later, in Orange County, we started the USS CA chapter. Still later I joined the USS Los Angeles chapter.
In the ensuing years, I worked for Information Handling Services, in outside sales to aerospace & electronics companies, as well as the US Military. This allowed me to visit quite a few notable naval cover collectors. It was a pleasure to view their collections and discuss the hobby with them. Some names are no longer with us: Mrs. Harry Moore, Mrs. W. C. Crosby, Shorty Burkholder, Don McPherson, Deane Bartley, John Gill, Richard Dumonte, James Russell, David & Laurie Bernstein, Jim Myerson, Milt Nalibow, and Ralph Freiberg.
Conventions are a great place meet like-minded collectors. My first was in 1967, at San Francisco, and I have attended many since then, especially after retiring in 1995. I encourage all members to try to make them.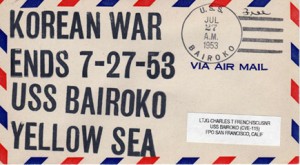 by Chuck French