Joseph E. Cunningham, USCS #2763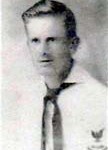 Joseph and I have corresponded some over the past 10 years and I've learned something about his service life and work life and I thought it would be interesting reading for USCS members.
Joseph was born in Glen Cove, New York in 1921, the city where he lives today. He was one of six children. Like many being raised during the depression, Joseph was working after elementary school and he was not able to attend high school. After hearing about the attack on Pearl Harbor while at work on December 7, he decided to enlist in the Marines. The Marines turned him down in February 1942, citing a weak eye and poor teeth. Joseph went to the Navy recruiter in the same building and was told that he would have to have his own dentist work on his teeth and then they would accept him. He was sworn in in August 1942 and traveled to Newport, Rhode Island for boot camp.
After boot camp he sailed to Argentia, Newfoundland aboard the USS Chateau Thierry. As a member of Fleet Air Wing 7 he was assigned to the radio shop preparing the radios for the aircraft. While there, a friend of his talked him into taking a plane ride in a Grumman land-seaplane. After a 2 hour flight, the plane was flying low over the water, probably hit a wave and flipped over. They got into a raft and were picked up after a couple of hours by fishermen. (The pilot would later marry Irving Berlin's daughter.)
Joseph was transferred with Fleet Air Wing 7 to Dunkeswell, England in 1943. 3 squadrons operated the PB4Y-1 Liberator, a naval version of the B-24 bomber, 1 squadron operated the PBY-5A Catalina, on anti-submarine and convoy escort duty. Their service area included the Bay Biscay, English Channel and coast of Ireland. Joseph volunteered for combat missions and received approval for training in December 1943. His first mission was flown February 5, 1944, a night mission. The radar operator spotted 2 surface ships and the plane attacked and sank one German destroyer and damaged the other. Joseph would fly a total of 32 combat missions.
In 1944 he was rotated back to the United States, sailing aboard the HMS Queen Elizabeth. Fleet Air Wing 7's next base was in Hutchinson, Kansas and assignment to a new airplane, the PB4Y-2 Privateer. In August 1945 the Air Wing received orders to the Pacific but the end of the war cancelled those orders and Joseph was discharged December 1945.
In civilian life he served as a member of the Glen Cove Police Auxiliary and was appointed Chief in 1954. Joseph was married to his wife Patricia in 1956. They celebrated their 50th Wedding Anniversary last summer. In 1956 Joseph began working in the Traffic Sign and Marking Shop in Glen Cove, retiring in 1990 with 800 days of vacation, sick and personal time.
Joseph was invited by the CO of the USS Normandy to sail from Staten Island to London and France for the ceremonies marking the 50th anniversary of the D-Day invasion but he wasn't able to go due to health reasons. He did get some nice covers serviced in England marking the anniversary.
In 1994 Joseph learned that the crew of the Liberator on that first combat mission he had flown had been awarded Air Medals and the pilots awarded the Distinguished Flying Cross. Because his name had been inadvertently left off the crew manifest, he had not received a medal. After contacting some of the crew and Chief of Naval Operations and his Congressman, Joseph received the Navy Air Medal August 5, 1997. On July 4, 2002 he received a high school diploma from Glen Cove High School after a New York law allowed those who had served in the military but had not completed high school to receive their diploma.
Joseph has two daughters and three grandchildren. He is a bass fisherman and holds the record for the largest bass caught in his area, 54 pounds and 11 ounces with 20 pound line. He prepared type written cachets for the Daniel J Daly distinguished Marine stamp and sends for naval cancels on occasion. He joined the USCS in 1949 and was sponsored by Taze Nicholson. He also collects the State Quarters that are minted each year.
By Steve Shay