York Briddell, USCS #H-1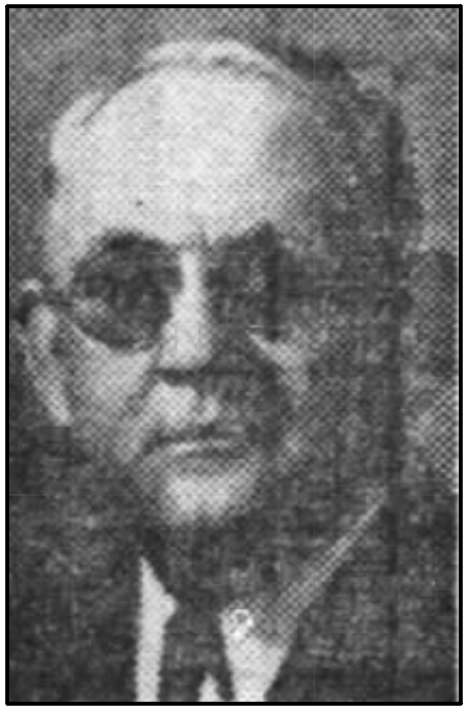 (If York Briddle and John Young could have crossed paths in late 1935, this is York's story as he would have told it to John. USCS Bulletins were used by John for some of the research and those issues are noted. – Steve)
My name is York Briddell, St. Petersburg FL. I was born on January 10, 1882 in Aurora, Illinois and came to Florida in 1912 with the Georgia Engineering Company. My occupation is a civil engineer and my family consists of my wife, Ida and a black Gordon Setter. During the Great War, I registered for the draft (1917-18) in Tampa (Hillsborough County) My draft number #1556893 was never called or I had a deferment (another senior moment) – the 1930 census has me listed as a non-veteran.
I've been a resident of St. Petersburg since 1924. A Presbyterian by faith, I'm a 32 degree Mason, a Kiwanian and member of the Board of Governors for both the city's Chamber of Commerce and the American Legion Crippled Children's Home (now All- Children's Hospital, St. Petersburg). It's one of the top children's hospital in the country. My hobbies include the U.S.C.S., collecting autographed airmail covers, airmail stamps & miniature elephants.
( His mini-bio appeared in USCS Bulletin No.37 (4/15/34) where he wrote that he was an associate member of the United States Naval Institute; President, St. Petersburg Stamp Club; Chairman, Aviation Department, Chamber of Commerce & a member of both the Society of Philatelic American & National Aeronautical Society. York was one of the national directors for the American Airmail Society (1940). – John)
I co-founded the Universal Ship Cancellation Society with newspaperman Alfred E. Newman (not the Mad magazine guy – John) during the summer of 1932. It was the Washington Bicentennial Year, and I had been an ardent collector of ship cancellations for several years, starting in 1929. I was born and raised in St. Louis MO and was bitten by the stamp bug when I was eight years old. I was the godfather of the San Diego, Waterbury & St. Petersburg Stamp Clubs. A St. Petersburg's resident since 1922, I served in the U.S. Army during the war where he was the Chief Clerk, Ordinance Department at Waterbury, CT.
The national cruise of the Frigate CONSTITUTION inspired me to send for ship cancellations. I used printed airmail envelopes (by J.W. Stoutzenberg, Maplewood MO and bordered envelopes by Harry Ioor, Indianapolis IN and Conrath Printery, Ripley NY). Both Stoutzenberg , Collinsville IL (#15) and Lawrence Ayrault Ripley NY (#24) would become early birds in the society. Ioor (#877) would join in September 1935.
I designed a cachet for "Old Ironsides'" first visit to St. Petersburg. While many had printed fillers, compliments of York Briddell, Chairman, Chamber of Commerce, Aviation Department, these covers had a stamped cachet (purple), canceled by mail clerk Harry Moore (#11) with ship's type 5hks cancel on 7 APR 1932 with ST. PETERS/ BURG, FLA in killers (4569 covers). The same cachet was used on covers 8 & 9 APR 1932. The ship was anchored three quarters of a mile off the Municipal Recreation Pier and hosted 20,868 visitors during its three-day visit to Pinellas County.
A surprise arrived in the mail from "Old Ironsides" in a letter from CDR Louis Gulliver on ship's stationery (dated 4/22/32). It was in response to aero photographs of the ship that I had sent the commanding officer. Enclosed was a hand-drawn (various inks) cover by a 18 year-old youth, Wilbert Mahoney, Claymont Heights, DE. It was franked with a two cents Washington stamp canceled on 23 APR 1932 with WASHINGTON/ D.C. in the killers.
On the frigate's return visit to St. Petersburg (April 1934), I wrote and received another Mahoney hand-drawn cover from Captain Gulliver. Drawn by the same person (2/7/32), it bears a Navy Department penalty (5LK) franking & ship's type 3 cancel 17 APR 1934 with ST PETERS/ BURG, FLA in killers. This second gift was probably in response to Al and myself sponsoring a printed "Farewell- Old ironsides" cachet (625 covers), posted on 15 APR 1934.
My efforts to bring together collectors of all marine (maritime) postmarks (naval & merchant cancels) started in November 1931. I sent notices to most stamp publications, but only one appeared in the North Bay Stamp Club monthly newsletter (12/9/31). This society was being formed in Florida, but membership was universal. Interested collectors could send an SASE for particulars to York Briddell (Sec'y) Box 668, St. Petersburg, Fla. I myself joined NBSC in December 1932 (Associate #214).
It wasn't until October 15, 1932 that I sent out my first mimeographed bulletin. The four pager named myself as temporary Chairman, Newman as temporary Sec'y- Treas., Harold Faust (#3), Greensboro NC and Marshall Hall (#10), Columbus OH as temporary Vice Chairmen. An election would be held when the society had fifty members.
A letter (11/2/32) on printed stationary (John Gill) from Harry Moore said that our first bulletin was very interesting and he sent figures on the number of covers handled aboard the ship for Navy Day 1932. Moore serviced 33,165 covers (1,986 via air and 31,179 via ordinary, etc). The Washington Bicentennial Commission cachet was applied in green ink with 75 covers (dull red) & 50 covers (combination red-green).
District corresponding secretaries were appointed, who would notify the bulletin manager (myself) of ship movements. Faust was District #1, Corresponding Sec'y. The last page reminded members to keep a supply of legal SASE on hand with me for future issues of USCS Bulletin. Each page was mimeographed on printed pages bearing the USCS logo. Bulletin #2 (10/31/32) mentioned that the society had 29 members with Everett Wallster (#14) Dedham, MA being named another corresponding secretary.
My job forced a temporary move to Albany, GA (November 15, 1932 through August 15, 1933) but I continued to publish the bulletin. I sponsored a special cachet for Flag Day 1933 which depicts the USCS logo; the covers were machine canceled at the post office in Albany GA. Remember those great Coast Guard Day (August 4th ) covers I did for Section Base #21 (St. Petersburg) last year – well another is planned depicting 75-foot patrol boat (CG 181) & Coast Guard aircraft responding to a sinking merchant vessel.
Bulletin #24 (9/30/33) reported the society first year ended with 182 members. We had started one year prior with 17 members and the first election was held in March 1933 with all the temporary officers made permanent. We elected five directors: Mike Owens; Everett Wallster, Earle Nason, Everett Erle & Clarke Turtle. Both Owens & Mason are Navy men, while Erle specializes in merchant vessels. Both Wallster & Turtle started our first USCS chapter (Old Ironsides) in the Boston area (January 1933)
After nearly two years at the helm, I stepped down from the presidency. As founder of this society, I had tried to hold to the ideas I had when we first chartered the society on September 30, 1932. It had always been my aim to make the USCS a hobby organization and not a commercial one. I designed our insignia, paid for its drawing and kept the society financially sound for the first six months (Bulletin #54, 7 Jan 1935).
My wish was to keep this organization from those with only a commercial interest in the hobby and keep members with commercial instincts from monopolizing offices within the Society. The presidency rightly belonged to Marshall Hall. I myself ran for the office of Bulletin-Manager! Nominations closed at 6:00 PM, the evening of February 7, 1935.
Talk about political advertisement! As the ballots were mailed to all members on 22-23 FEB1935, I urged all members to cast their vote for men who would have at heart the interests of the society and not their own commercial gain (Bulletin #57, 1 Mar 1935)
On the same front page, I mentioned an open letter from H.S. Groat (#89), Seattle to Mr. Hall where he (Groat) erroneously stated that I admitted receiving covers from Hall, in return for my withdrawal in the race for USCS president. As stated in past issues of my bulletins, I've thanked Mr. Hall and many others who favored me with their covers. As a matter of fact, since becoming acquainted with Dean Bartley (#44) through the USCS, I have received more covers from him than any other member of the society. I have only considered them complimentary, rather than anything else! My two reasons for withdrawal from the presidential race: first, the position belongs to the next person in line (First VP) and second, my own responsibilities demand more of my time.
The results of 1935 election were certified on March 20, 1935 with the following results: Bartley beating Hall by a dozen votes (169 vs.157). Byrd Powell took First VP spot, while Emil Thurman became Second VP. What's interesting is that Bartley was on the ballot for First VP (72 votes), coming in second over third place Faust (68 votes).
Newman retained the Sec'y- Treasurer office- winning (182 votes) over the three other candidates: Kretzler (107), Crosby (24) & Holton (11). I was re-elected as Bulletin manager (205 to 117) over Harry Lindhardt, but I would resign (4/7/35) effective 30 APR 1935 because of differences of opinions between the president and myself.
I also tendered resignation from the Board of Director, as I was elected with four others: LT A.D. Hunter (176), Paul Ickeringill (145), Mike Owens (132), Byrd Powell (131) & myself (125). As Powell was elected the First VP, the next highest vote getter, Everett Erle assumed the fifth seat on the USCS Board of Directors. Ed Brennecke would take my vacated seal on the Board, while H.S. Groat was appointed USCS Log manager.
It appears that York's collection was sold to Raymond Freshwater (#258) Ogden, Utah. The author brought this collection of naval covers at a small local stamp show in Elmsford (Westchester), New York (1981). Kept the CONSTITUTION, Navy Days & Battleship covers, but sold off the Asiatic Fleet, Bird Boats, diesel Submarines and the Fleet Auxiliaries. Silly me! As I remember they were addressed to both Briddell and Freshwater.
If you ever see a cover addressed to Box 668, St. Petersburg Florida- it was typed by Briddell. He also had various types of rubber stamp corner cards. If the address bore the words "post office" it was a gift from one of the cachet sponsors or another collector. Briddell was not big fan of cachets – he was only interested in cancels. The earliest cancel in the collection from CONSTITUTION on five cents embossed envelope (U93), posted 19 OCT 1931 with YORKTOWN/ VA the in killers.
The last cover was addressed to Briddell on a three cents envelope with LEARY (DD 158) cancel 19 SEP 1935 with NEWORT/ NEWS, VA. Both covers are uncacheted! With the collection were the Maloney hand drawn covers and letters from Harry Moore & Captain Gulliver. He also had a relationship with Walter Crosby, as the old chief send him many great covers including a set of Beazell- Crosby photographic covers.
After the 1935 election, Briddell dropped from the naval cover scene. He didn't join the American Naval Cancellation Society (established April 1935). This rival group was made up of many candidates that included: H.P. Faust (#3), C. Wright Richell (#6), Hall (#10) & Crosby (#12). Both Byrd Powell (#85) & Emil Thurman (#102) jumped to the ANCS, resigning their USCS offices shortly after the election.
The 1940 USCS Yearbook gave his address as 8 Sixth Street No., St Petersburg. The USCS Log (12/ 46) mentions his current address was the Florida State Sanatorium, Chattahoochee FL. Looks like York might have been affected with tuberculosis from his work on Florida & Georgia highways. Thanks to Greg Ciesielski & Mike Brock for their assistance on the chat page. – John)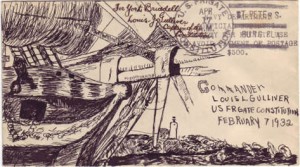 The cover illustration was sent to York Briddell from Commander Gulliver in 1932 1934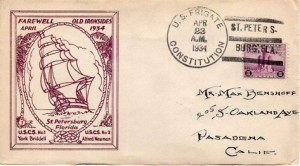 Cachet designed by York Briddell and Alfred Newman for the departure of Old Ironsides, 1934
By John Young (#L-8219) and edited by Steve Shay (#L-10821)