John Blair, USCS #11,840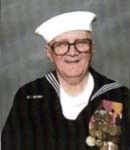 John fits at least some of profile of a typical member. He hasn't authored a naval cover catalog, hasn't prepared thousands of cachets, doesn't belong to a chapter and doesn't regularly write articles in the Log. But he's a three year member that enjoys reading the Log, enjoys naval history and enjoys teaching others about naval history.
John is another of our members from Michigan, growing up in Detroit from 1924-1935 and then his family moved to Osseo, Michigan where he lived 1935-1943. Like thousands of boys, he enlisted in the Navy, his enlistment was on June 29, 1943. He attended boot camp at NTC Great Lakes in Illinois and then went to Diesel School at 2 sites, also in Illinois. In March 1944 he was assigned to the Minecraft Training Center at Norfolk and about a month later joined the crew of the USS Peril, AM-277, an auxiliary minesweeper, in the Atlantic Fleet. He served aboard until May 10, 1945. He was then transferred to the Pacific Fleet, no doubt anticipating the invasion of Japan. He served on USS Filmore, APA-83 and then bounced around on USS APL-11, LCI-1084, YR-30 and USS Waller, DD-466 before being discharged in January 1946.
After deciding that maybe the Navy wasn't such a bad thing, he reenlisted in April 1947 and served in the Surface Division in Detroit and then the Training Center at Anderson, Indiana. In 1963 he was transferred to the USS Searcher, a radar picket ship, then served aboard USS YR-65, USS ARD-116, USS Bay City, USS Voge. He also attended the Naval War College and was discharged July 1968. Again he decided that maybe the Navy wasn't such a bad thing and once more reenlisted September 1973, going on to serve on USS Fulton, USS Gilmore, USS Alamogordo along with some land duty. He finally retired once and for all November 1984 after serving 34 years, 3 months, 15 days.
John retired as Engineman First Class. He has  a number of service ribbons and medals as shown in his photo, including service medals for WWII, Korea and Vietnam service. John is married with 10 children, 20 grandchildren (and counting he says) and some great grandchildren. In civilian life he earned 3 associate degrees in Business Administration, Auto Mechanics and Air Conditioning. He had several civilian jobs, including being an auto glass cutter and installer.
Today John lives in Lawton, Oklahoma where he prepares posters and exhibits, including write ups about ships and displays of shoulder patches and distinguishing marks worn by enlisted sailors during World War II. He prepared a world map with photos of the 21 ships he served on, showing the areas where they served. He also collects coins and paper money. Living near Fort Sill, John sometimes attends deployment, redeployment and change of command ceremonies where he has met many interesting Army officers.
John collects auxiliary ship and amphibious ship covers. One of his favorite is the illustrated cover from the USS Stingray, Lieutenant Blair, commanding; this was an uncle of John's.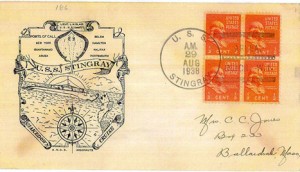 By Steve Shay