USS Yorktown (CV-5)
by John Young (#L-8219)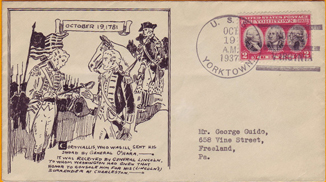 In October 1931, a two cents stamp was issued to commemorate the ending of the American Revolution. The stamp depicts vignettes of George Washington (center), Comte de Rochambeau (left) and Admiral de Grasse (right), who defeated Lord General Cornwallis at Yorktown, Virginia.
The hand-drawn cachet (pen & ink) depicts George Washington on horseback, while General Benjamin Lincoln accepts Lord Cornwallis's sword from British General O'Hara. Lincoln had previously surrendered Charleston to Cornwallis in May 1780. The cachet was hand drawn by George Guido, Freeland PA, who sent cover to YORKTOWN for cancellation on October 19, 1937. See other Guido artwork below. Guido was probably a collector, but not a member of either USCS or ANCS – not listed on their 1940 rosters.
In August 1933, the Navy ordered two 809-feet, 19,900 ton aircraft carriers that were built by Newport News Shipbuilding. Both YORKTOWN (CV 5) & ENTERPRISE(CV 6) carried eighty-four aircraft that include two fighting and two scouting squadrons and six utility planes. YORKTOWN was launched in April 1936 and commissioned onSeptember 30, 1937. The cover was posted while the carrier was conducting trails in the Hampton Roads area. The attack on Pearl Harbor brought her to the Pacific.