USS Swordfish (SSN-579)
By Steve Shay (#L-10,821)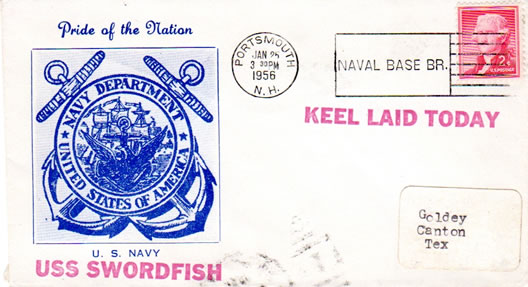 The USS Swordfish was the second of the Skate class of nuclear attack submarines, the first class of the attack submarines to be built for the Navy that was not considered as a prototypical class. She was the second sub named for the Swordfish, the first being a submarine that saw exemplary service during World War II and was lost during the war. The keel for the nuclear sub was laid in Portsmouth, New Hampshire on January 25, 1956, followed with a launching August 27, 1957 and commissioning into the fleet on September 15,1958.
During her service, Swordfish became the first nuclear US Navy submarine deployed to the western Pacific, the first nuclear submarine to be overhauled on the west coast (at Mare Island, California) and likely the first to carry two Presidents on board, the President of The Republic of China (Taiwan) and the President of The Philippines.
Swordfish spent her career in the Pacific, including tours in the Vietnam theater. There are some that say Swordfish collided with the Soviet submarine K-129 in 1968, damaging her periscope and sinking the Soviet sub although the official US Navy statement is that the Swordfish was damaged under an ice pack.
Swordfish was decommissioned June 2, 1989.
This cover was prepared by George Goldey who prepared covers for a wide range of events, including nuclear sub events between 1956 and 1966. This keel laying cover is rare. Do you have one?