USS Princeton
By Steve Shay (L-10,821)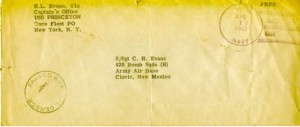 February 2005 Cover of the Month
The USS Princeton started out as a Cleveland class cruiser and was laid down as USS Tallahassee, CL-61 in June 1941. However the need for more carriers was apparent with the outbreak of World War II and plans were made to convert cruisers to carriers. She was first reclassified as CV-23 on February 23, 1942 and then renamed Princeton on March 31. The carrier was launched in October 1942 and commissioned February 25, 1943 in Philadelphia.
Princeton received another reclassification to CVL-23 on July 15, 1943 to differentiate the class from the CV's. Princeton saw action during the occupation of Baker Island and strikes on Makin and Tarawa, Bougainville and Rabual. In 1944, Princeton supported strikes at Wotje and the amphibious operations against Kwajalein and Eniwetok.
On August 20, while making strikes on Luzon, a Japanese dive bomber scored a hit on the carrier. Fires raced out of control and a magazine explosion blew off the stern and after flight deck. Six hours after the bomb hit, the abandon ship call was made. The USS Irwin fired torpedoes to sink the Princeton. Fires and explosions enveloped the carrier and after an explosion tore the bow off, the ship sank. Along with the loss of Princeton, there was heavy damage to the ships who assisted the evacuation and fire fighting, USS Birmingham, USS Morrison, USS Irwin and USS Reno.
Princeton was probably still in the Philadelphia area when this cover was mailed by a Yeoman working in the Captain's office. As the ship post office was not established until April 15, 1943, this cover probably bears the postmark of a shore station post office. Shortly after this cover was mailed, Princeton would begin her shakedown cruise.