USS Mount Olympus (AGC-8)
By Steve Shay (#L-10,821)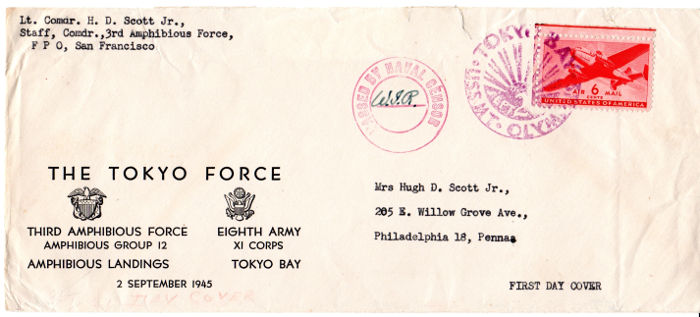 The USS Mount Olympus was an amphibious force flagship, launched October 3, 1943 as USS Eclipse but renamed before commissioning. She participated in the landings in Leyte Gulf in the Philippines and also the landings at Lingayen Gulf. After World War II, she was the flagship for Operation Highjump, the Navy Antarctic expedition in 1947. She later served in the Caribbean, Mediterranean and supported DEW Line operations in the Arctic before being inactivated in 1955. She was ultimately scrapped in 1973.
At the end of the hostilities in World War II, Mount Olympus carried elements of the US Army 1st Cavalry Division to Yokohama on September 2, 1945, VJ-Day. The 1st Cavalry Division would begin an occupation that would last 5 years in Japan. And embarking at Yokohama, they became the first Army division to enter Tokyo on September 8.
The Mount Olympus was one of the hundreds of ships present in Tokyo Bay on September 2 for the surrender ceremony aboard the battleship USS Missouri. Many of the ships that were present that day prepared fancy cancels or modified existing cancels and prepared cachets to mark the event.
The cover this month features the Type F cancel prepared by the USS Mount Olympus. The cancel had an area for a changeable date and this cancel remained in use during the days after September 2. This cover was mailed by Hugh Scott, Jr. who was the US Senate Minority Leader at the time Richard Nixon resigned as President. Scott, along with Senator Goldwater and Representative Rhodes visited Nixon the day before his resignation to inform him that he did not have the votes to avoid conviction at impeachment hearings.