Non-Philatelic Cover USS Missouri
By Don Tjossem (USCS #L-10,987)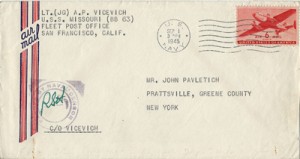 The USS MISSOURI (BB-63) has always been a favorite ship for collectors since the Japanese World War II surrender took place on her deck on 2 September 1945. Sometimes the date of the cancellation isn't even important to some collectors on this ship, due to its magnificent history.
This cover has an ordinary Type 7 cancel the day before the surrender, 1 September 1945. Most likely most sailors were not thinking about mailing a letter on that day but were busy preparing for many dignitaries to come aboard, both Japanese and American the next day. Just think of the excitement aboard ship on this day at 3:00PM while this cover was being cancelled!
One can just imagine what the content of the enclosed letter was and it was apparent that LT. (JG) Vicevich wanted this letter to move fast as he sent it airmail. He certainly still had free mailing privileges at that time as the surrender had not yet taken place. This cover was cancelled aboard MISSOURI within 24 hours before the 23-minute surrender ceremony that was broadcast around the world on 2 September 1945.
It is interesting to note that even at this late date in the hostilities this letter leaving the MISSOURI mailed by a Navy Lt. was censored. It probably did not leave the ship until after the treaty was signed.
MISSOURI was laid down on 6 January 1941 and commissioned on 11 June 1944. She saw action in both WWII and the Korean War. Following that she was a tourist attraction, while in reserve from 1955 to 1985 at Bremerton. She was called back into duty and recommissioned in San Francisco on May 10, 1986. MISSOURI then commenced a historic world cruise, reflecting that of President Teddy Roosevelt's Great White Fleet of 80 years prior.
Finally on March 31, 1992, after six years of active duty, officers and U.S. Marines of the USS MISSOURI departed their ship for the last time as the "Mighty Mo" was once again decommissioned — the last American battleship to be decommissioned — and reentered the reserve fleet.
In 1994, the newly formed USS Missouri Memorial Association, Inc. embarked on a four-year odyssey to make Pearl Harbor the permanent home for the Mighty Mo. On May 4, 1998, the Navy officially granted the battleship's care to the association.
She now lays alongside the USS Arizona, USS Oklahoma and USS Bowfin in Pearl Harbor as a tourist attraction. MISSOURI received three battle stars for World War II service and fire for Korean Service.