USS Juneau
Emil Bilka, USCS member #2670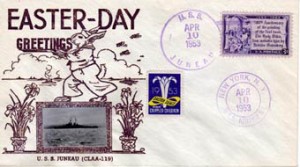 April 2006 Cover of the Month
Most naval cover collectors are familiar with the thermographed covers with small photos produced by Walter Crosby. In fact these are covers that probably first attracted many to the hobby. Crosby produced covers between 1930 and 1947. While the thermograph/photo covers may be the best known Crosby covers, he also produced printed, printed/theromographed and even covers produced on photographic paper. These later covers were produced in partnership with Robert Beazell during the period between June 1931 and July 1932.
Crosby was USCS member #69 and retired from the US Navy. He sponsored as well as co-sponsored covers with other artists. He used artwork prepared by others but also acted as his own designer and probably did some of his own artwork. He sold a Crosby Cover album and covers can be found today with stickers on the reverse with the Crosby Cover Album logo.
The retired Chief passed away in September 1947. His wife continued the business for a short time but then sold the cover stock of Mindoro and Salem and a large portion of the printers cuts to William "Duke" Gmahle. Ray St. John also purchased some of the Crosby cover stock.
Gmahle, USCS member #2753, used the Crosby stock and printer cuts to produce his own designs by rearranging parts of different Crosby designs. Gmahle was the mail clerk aboard the USS Mindoro. He produced his covers between 1947 and 1957. Many of his covers are cancelled aboard the USS Mindoro or USS Salem.
So if it looks like a Crosby cover, when isn't it a Crosby? Except for the covers Crosby's wife produced, if dated after 1947, it is probably a Gmahle. But wait, what about this month's cover? Is it really a Gmahle?
There was another collector who produced Crosby style cachets, Emil Bilka, USCS member #2670. Bilka too was USN, a Chief Bosun's Mate aboard USS New Kent, USS Nobel and USS Mississippi. Bilka used standard Crosby printer cuts with changed ship names. It is not known if Bilka received his supply from Mrs. Crosby or from Gmahle. It is difficult to distinguish Bilka covers from Gmahle covers however Bilka coordinated the cachet color with the stamp color and often used a colored ink for the postmark that would match or contrast with the stamp. Bilka produced covers from 1947 until the early 1950's.
The cover this month is a Bilka cover. The purple cachet, purple stamp, purple postmark and even purple Eater Seal match Bilka's known style.
Just as many sellers mark obvious Gmahle covers as Crosby covers, this cover was marked as Gmahle and is very likely a Bilka cover.
The ship featured on this cover, USS Juneau, originally launched as CL-119, was redesignated as CLAA-119 in 1949. The Juneau class of cruiser was armed only with 5 inch and assorted antiaircraft weapons. Juneau participated in the Korean War and received 5 battle stars for service.