USS Chicago
By Walter Crosby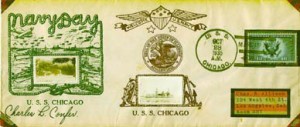 February 2006 Cover of the Month
This month's cover ties in to recent postings on the Chat Page regarding double Crosby cachets on cover.
The cover is #10 size and has 2 thermographed cachets by Walter Crosby. One cachet, marking Navy Day, is drawn by C. Wright Richell, the other cachet is not signed (possibly drawn by Crosby) and honors the state of Illinois, a tie in to the ship cancel from the USS Chicago. Both cachets feature a small photo of the cruiser Chicago. Richell drew cachets for many cover sponsors.
The cover is dated October 28, 1935 at Mare Island, California. It may seem that the cover is postmarked one day too late for Navy Day. However the 27 th fell on a Sunday in 1935 and Mare Island celebrations were actually held the next day on Monday.
There is a signature on the envelope from Charles Confer. Charles was probably the mail clerk aboard the Chicago.
In addition to the Crosby designs, the cover was prepared for servicing by Henry A. Stinemetts of Los Angeles. Stinemett's designs can most often be identified with stickers and silk covering envelopes. He also often used silk or paper to highlight the cover corners, the paper on this cover appears to be wrapping paper. He also used a paper matte to mount the stamp on. The stamps he chose often matched the color of the cachet though that is not the case on this cover. The stamp is high value for the period, a 16 cent special delivery air mail stamp. Stinemetts covers were probably one of a kind.
The filler in some of Stinemetts covers are cut up menus from restaurants. The one in this cover shows bacon and eggs to cost 20 cents, a turkey or chicken sandwich to cost 15 cents and a hamburger sandwich was 10 cents. Pumpkin or lemon pie was 10 cents. For the cost of the stamp used on this cover, one could have had a meal.
Walter Crosby was USCS member #69, C. Wright Richell was USCS #251 and Henry Stinemetts was USCS #1103.
Double Crosby cacheted covers are not very common and are highly prized by collectors, the Stinemetts servicing makes this even more prized.
The USS Chicago, a Mare Island built cruiser, CA-29, would be damaged in the Battle of Rennel Island near Guadalcanal on January 27, 1943. While under tow the following day, a Japanese submarine attacked and sunk the proud ship.