ICEX -86
By Steve Shay (L-10,821)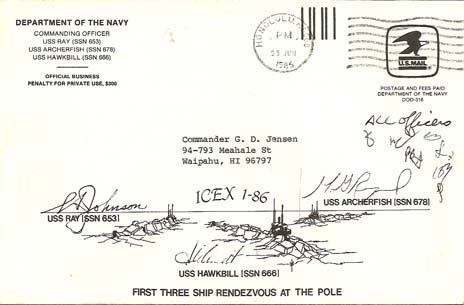 On May 6, 1986, three US Navy Sturgeon class nuclear attack submarines rendezvoused and surfaced together at the North Pole. This event occurred while the submarines were participating in ICEX 1-86, an Arctic Ocean operation. The mission of the submarines was to collect scientific data and test the ability to conduct warfare under the polar ice cap. While the scientific research was important, the Navy took the occasion to signal to the Soviet Union that the US was boosting its attack submarine presence in the Arctic in repsonse to a heavier concentration of Soviet subs there.
The three Commanind Officers of the US subs took the occasion to write a letter about the exercise on the date of the surfacing. This cover was used to mail a copy of the letter to a naval officer in Hawaii. The letter read:
May 6, 1986
Greetings from the North Pole,
Today marks a significant event in the history or submarine Artcic exploration – the first three ship rendezvous at the North Pole. USS RAY (SSN 563), USS ARCHERFISH (SSN 678), and USS HAWKBILL (SSN 666) steaming independently from Charleston, South Carolina, New London, Connecticut, and Pearl Harbor, Hawaii, rendezvoused and surfaced at the North Pole.
The operations conducted by the USS RAY, USS ARCHERFISH, and USS HAWKBILL are a continuation of hydrographic and oceanographic studies conducted in the Arctic since 1957. The data we collect will enhance the ability of our nuclear submarines to operate, and if necesssary, fight under the polar ice cap.
While submarine operations in the Arctic are not new, each trip under the ice is a challenging and often unique experience for the crew. The many weeks of submerged under the ice operations leading up to today's rendezvous are a tribute to the dedicated professionalism of our crews and to the superb reliability of our ships.
CDR S.A. Johnson USS RAY (SSN 653)
CDR M.G. Riegel USS ARCHERFISH (SSN 678)
CDR S.A. Arndt USS HAWKBILL (SASN 666)"
The cover is postmarked June 23, 1986 in Honolulu, most likely the date that the Hawkbill returned to port in Hawaii.
The Hawkbill would remain in the fleet until decommissioned March 15, 2000. The Archerfish was decommissioned March 31, 1998 and the Ray was decommissioned March 16, 1993