Bill Boss, USCS #9068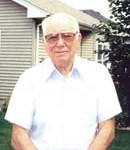 I began collecting stamps in 1933 at 10 years of age and living in Tyler, Texas. The economy was in a severe depression so most of my stamps were used and of little value but I enjoyed collecting and learning about the various aspects of the hobby. My favorites were the hunting permit "duck" stamps, beginning with Scott #RW1 issued in 1934. I obtained these by soaking them from my father's expired hunting licenses each year. I continued collecting through high school and on until WW II.
At age 18 and upon the Pearl Harbor attack, I persuaded my father to sign his permission for my enlistment in the Naval Reserve at Dallas for six months (or duration). I began active duty on February 19, 1942. After three weeks of Boot at San Diego, I was assigned to Electrical school at the Detroit Naval Armory. Upon completing the four month course, I was upgraded to Electrician Mate third class (EM3/c) and assigned to Gyrocompass school at the Brooklyn Navy Yard. After completing the three month course there, I was assigned to the USS BEALE (DD-471).
I became a plank owner upon BEALE'S commissioning on December 23, 1942, at the Brooklyn Navy Yard. During my duty in the BEALE, She participated in two invasions (landings) in the Aleutian Islands, Alaska, followed by seven invasions with "MacArthur's" 7th Fleet along the northern coast of New Guinea and its offshore islands, beginning with landing at Cape Gloucester, New Britain Island, Solomons, on which Rabaul is located. She also endured numerous air attacks, shelled bypassed Japanese occupied areas and engaged five Japanese destroyers off of Biak Island. I was transferred off the BEALE on July 7, 1944, returned to the States for my first leave and assignment to the USS DAYTON (CL-105).
I became a plank owner upon DAYTON'S commissioning on January 7, 1945, at the Philadelphia Navy Yard. During my duty in DAYTON, She participated as part of the 3rd Fleet in air strikes and bombardments of Japan's home islands during the 75-day period prior to the cease fire order. DAYTON'S cruising position within the task force was off the port side of the USS MISSOURI. On the night of July 18, DAYTON, along with three other cruisers, did the first shelling of Tokyo Bay. She patrolled offshore within the vicinity of Tokyo Bay as a security precaution during the Peace Signing Ceremonies. She anchored within the Bay on September 10 and remained as part of the occupation force until November 7, 1945 when She departed for San Pedro.
I was discharged from the Navy on December 18 (wow, what a long six months). In addition to an Honorable Discharge for my service, I received five Service Medals and five Battle Engagement Stars (P17, P22, P28, P35 and P40). My discharge rating was Electrician Mate first class, which rating I had held for the last twenty months of service. Beginning on the commissioning date of both ships, I was responsible for the ship's navigational and internal communication systems equipment.
Having met my wife, Betty, in Philadelphia when DAYTON was under construction at Camden, I returned there and began college, majoring in engineering. After the second year of college, I joined the engineering staff of Eckert-Mauchly Computer Corporation to develop the UNIVAC. It was the first electronic computer to be designed for commercial applications. Dr. John W. Mauchly and J. Presper Eckert were inventors of the first working electronic computer for scientific applications, the ENIAC. At this time it was operating at the Army's Aberdeen Proving Grounds. Grace Hopper joined our software staff in 1949.
With the initial development phase being completed and the 3rd UNIVAC machine being assembled in 1951, I joined the newly forming engineering staff of Burroughs Computer Research Center then located in Philadelphia. My first project assignment there was for the development of a magnetic read/write memory for the ENIAC. After participating in the development and project management of several computers for various business applications at Burroughs, in 1958 I joined an electronic display company, All-American, as V. P. and General Manager. We then began developing large-screen display products for major league stadia, world fairs, airports, etc.
However, when the resources available at this small company became insufficient to do business in the rapidly expanding market for larger custom engineered display systems, I joined a "Fortune 500" company, Stewart-Warner Corporation, at Chicago in 1965 as Manager of the newly forming Information Display Products Department. Our initial custom product was for the first computer animated lamp matrix scoreboard for the new Anaheim stadium in 1966. We developed the first video lamp-matrix scoreboard for the Kansas City Arrowhead stadium in 1973, thus providing in-park real time viewing and playback for all fans. Such required the development of the first video (analog)-to-digital converter. The average matrix display size for outdoor viewing was 25 feet x 40 feet, having 15,000 pixels. We had to develop equipment to display both English and Chinese for an installation in 1978 at Hong Kong, and one later at Macau, since no computer input equipment was available at that time to input the approximately 75,000 different Chinese characters. We developed a color video matrix display for the St. Louis Busch stadium in 1983. We developed and installed, worldwide, thirty-one other major custom matrix display products during my twenty-three years with S-W. I continued as Manager of the department until my retirement in 1988.
Back to my hobby, I continued to collect stamps after the war until in 1974 when I began researching and collecting airship flown covers from all countries. Noticing the attractive cachets of airships USS AKRON and USS MACON, I began researching and collecting those. Hearing about the USCS in early 1975, I attended a Moffett Chapter meeting and met Larry Groh, Bob Matthews, Jack Mitchell, and other chapter members. I was the only ex-Navy guy attending the meeting but very quickly I realized that I knew the least about Naval history, ships and postmarks so I applied for membership and have been learning ever since. I have attended most of our annual meetings where I have been privileged to meet the other members in our Society, all being knowledgeable and dedicated.
I enjoy doing the research that is required to make a cover and a collection meaningful. While researching airship covers, I visited and became good friends with Harry Gordon, Moody Erwin, one of the three AKRON survivors, and Adm. Howard Miller, one of the two MACON pilots that dropped the covers to President Roosevelt aboard the USS Houston in 1934. I also met with nine others that had flown on the airships and with ADM. William A. Moffett's son, George H. Moffett. I visited the Barnegat and Big Sur lighthouses off which the AKRON and MACON crashed and visited the hangars at Akron, Lakehurst and Moffett Field. I did an article in our Log about the above mentioned drop mail by the MACON. While serving as Group Leader of the Akron/Macon Study Group for four years, I wrote several articles in the Study Group's Newsletters, including one about my search for the site of the airship mooring mast at Hawaii. After viewing the log books of the Naval airships at the National Archives, I published in the Newsletters a listing of all flights of the five Naval airships, showing dates, missions, destinations, time of departures and arrivals, commanders, etc. I did the airship cover auction in the Newsletter for the Study Group members. I auctioned some of my own covers in our Log for about two years under the name, Shellback.
Further regarding publications, Cheryl Ganz and I co-authored a 12-page article which was published during 1983 in the American Philatelist entitled "USS AKRON (ZRS-4)". Also, I assisted John Ullmann in the preparation of his "Akron & Macon Event Covers" catalogue.
I assembled another collection consisting of world locations that are shown in US Naval cancels prior to 1946. However, most of my research from 1993 through 2005 was devoted to the Asiatic Fleet and the ports of China. Larry Groh and Jackson Bosley have been my Mentors while working on this collection. I constructed a map of China with markings showing only killer bar locations, the mileage of the locations up the Yangtze from the Woosung bar and a listing of ships and cruise service dates for those that did duty on the Asiatic Station. During my study, I communicated with Kemp Tolley, and with a Marine and several Crewmen that were in USS Pittsburgh when it was the Flagship during 1926-1931. Also, I spoke with Arthur (Tex) Anders, Executive Officer of the USS PANAY. I have not written anything for the Log but have shared my work and part of my collection with John Noble.
During the past two years I have been collecting Walter Crosby covers and am studying his work, which reflects his remarkable creative talent.
My first US Naval postmarked cover was a BEALE cover. One of my favorite covers was cancelled by the USS HOUSTON on 19 JUL 34, the date of the above mentioned MACON mail drop, with USS MACON/OVERHEAD in the killer bars. Julius Hulff applied a cachet describing the event. The two pilots that dropped the mail signed the cover shortly thereafter. This cover was not dropped.
My wife died nine years ago so I moved from Chicago to a retirement community in New Jersey which is located near to my son and his family. My continuing interest in collecting Naval covers, the frequent communications with my USCS friends, and the chasing of covers on eBay make every day an interesting and pleasant one.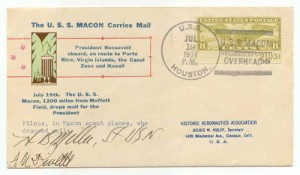 by Bill Boss