USS Oriole AM-7
By Don Tjossem (USCS #L-10,987)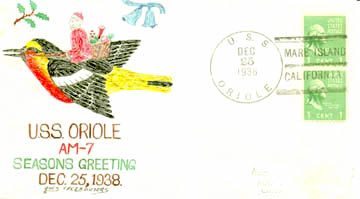 December 2005 Cover of the Month
Eugene L. Mueller, a very prolific cover artist from 1932 – 1941, created this month's delightful Christmas cover of the month. (Notice Santa riding aboard the USS ORIOLE.) He was USCS member # 255 and ANCS member # 9. Many of his cachets are indicated with the notation of "ANCS Freebooters."
This cover was cancelled on 25 December 1938 aboard ORIOLE. (AM-7 or sometimes referred to as ORIOLE III). The reverse side bears the Mare Island Station cancellation from Vallejo, CA at 2:30 PM, 27 December 1938. There is a partial address sticker that is found intact on so many of Mueller's covers. Time has taken its toll on that part of this cover.
The keel on ORIOLE was laid on 6 March 1918 at Staten Island Shipbuilding at Port Richmond, N.Y. She was commissioned on 5 November 1918 and was immediately assigned to the Pacific Fleet, at Pearl Harbor as a minesweeper. When the postwar (WW I) reduction came she was decommissioned on 3 May 1922, after only four years of duty. On August 15 August 1938 she was once again commissioned and operated out of Puget Sound Navy Yard in Bremerton, WA for 3 years.
ORIOLE must have indeed looked like Santa's sleigh as she came to rescue 60 crewmembers of USS RESCUER on the evening of 31 December 1942. RESCUER was attempting to salvage the Russian freighter Turksib that had wrecked on 21 November 1942 at Seal Cape, near the Scotch Cap Lighthouse on Unimak, Island off of Alaska. RESCUER was carried on to the beach, badly holed, and eventually destroyed. One crewmember of RESCUER lost his life in that incident but all survivors were taken aboard ORIOLE to safety. RESCUER was destroyed in this incident.
Later on she served in the Alaskan waters as an ocean tug and was designated at AT-136. Her last designation was ATO-136 on 15 May 1944. Following her very heroic rescue she was decommissioned on 6 February 1946, shortly after the war.