by Paul Helman (USCS #L-7378)
The first post war Navy Day, 27 October 1945, was a glorious day of celebration and remembrance for those fortunate sailors whose ships were back in the USA. However, it should be remembered that many U.S. Navy ships were still on duty around the globe requiring those sailors to combine any Navy Day celebration with regular duties. Regardless of where a ship was and what her orders were many ships marked this day with cachets or special markings, fancy cancels and, for those ship's who had them, the first use of newly issued type 2 cancels. Navy Day 1945 is important to Naval Cover collectors because it was officially the first day since wartime security provisions were lifted that a ship could use a cancellation device that contained the ship's name. During the war, as many of our members know, U.S. Navy ships were ordered to use cancels with just "U.S. Navy" in the dial. Once the war was over the new cancels were issued to the fleet with instructions to not use them until 27 October.
USCS Data Sheet #24 lists 457 ships that are reported to have canceled mail on 27 October 1945. As listed on the data sheet these cancels represent a fair mix of type P and F as well as type 2z, 3 and the new type 2. Additionally 19 ships without post offices are listed that postmarked covers with a shore station or other cancel. Navy Day 1945 is an interesting, large and worldwide event for our members to study and collect. Where were those ships? Which ships were still on duty and which ships participated in the nationwide celebration of Navy Day 1945? The author has compiled a list of about 250 ship-locations, certainly not complete but the list begins to show that Navy Day 45 was noted no matter the ship's location.
Over 150 ships were berthed at 56 various ports in the States and Territories for Navy Day celebrations. The rest were on Magic Carpet duty or patrolling Asiatic or other waters. The typical in-port celebration included ship open houses, printed programs, parades, formal diners with elected officials, speeches of remembrance for those lost and shore leave for the sailors. Most stateside Navy Bases also had open houses and along with any on-base ship tours there were displays and demonstrations of base capabilities. The Secretary of the Navy designated 23 of the 56 ports as special locations for memorial services (which ones are unknown to the author). President Truman reviewed the Fleet in a massive celebration in New York Harbor. Nationwide response was overwhelming, over 300000 visited the Naval Training Center in San Diego, 7000 went aboard the submarine USS SEAL (SS-183) in Camden, NJ and 5000 visited the destroyer USS GRAYSON (DD-435) in Charleston, SC. 7 ships were given the unique distinction of visiting their namesake port or city. So honored were NEW YORK, PORTLAND, PHILADELPHIA, SAVANNAH, SAN DIEGO, OAKLAND and PORTSMOUTH.
Since tomorrow always begins at the International Date Line, Navy Day started at Midnight on the 180th meridian (give or take a few jigs and jags). Going west from the date line geographically the first known ship to recognize Navy Day was USS THOMAS JEFFERSON (APA-30). She was at Saipan in the Marianas on Magic Carpet duty returning overseas serviceman. The illustration below shows her type 2# with "Navy Day" in the killer bars. Continuing directly west is Japan followed by the Philippine Islands, China and then Hong Kong. Missing here is the Solomons, New Guinea, New Zealand and Australia. Further research should identify US Navy ships in these areas on Navy Day.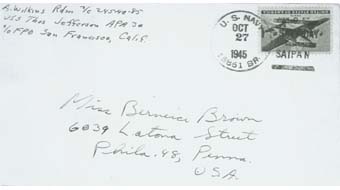 Below is a cover and cachet with a type 2z from USS KNOX (APA-46) at Nagoya, Japan. She was carrying occupation troops from the Philippines to Japan.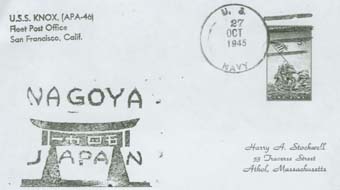 The cover below shows a type P (G-19) from USS GOSHEN (APA-108) at Guiuan, PI. She was also shuttling occupation troops and cargo between the Islands.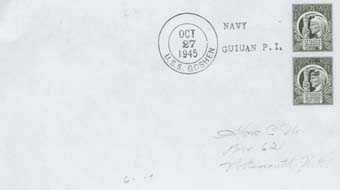 The cover below shows a type P (S-42) and cachet from USS SHIELDS (DD-596). She was operating off the northern coast of China.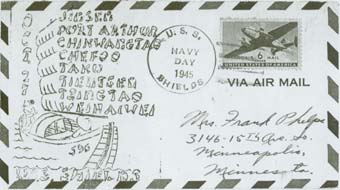 Below is a type F (L-308) from LST 991 at Hong Kong.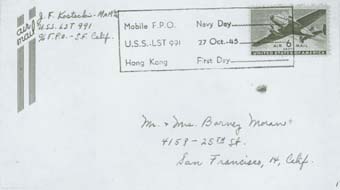 The next known examples of covers from Navy Day 45 are half way around the world at the eastern approaches of North American. Once again, future research may find ships located in the Mediterranean, European ports and in the Indian Ocean. Puerto Rico is furthest east, barely ahead of Portland, ME, and thus first up for stateside Navy Day.
USS LITTLE ROCK (CL-92) was at San Juan, PR. She had just been commissioned and was on a five-month tour of Latin America. Illustrated below is her new type 2(n) cancel on the first day of usage. Other LOG articles have discussed Navy Day celebrations at Portland, ME and New York and these provide an example of the huge public response that occurred at the 56 known locations. Since virtually all the ships at these locations cancelled mail Navy Day 45 provides a large number of covers for the Naval Cover enthusiast to collect. There are simply way too many covers to highlight here.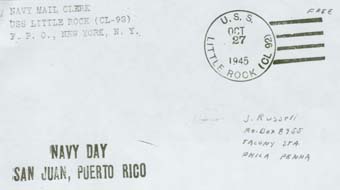 The author has selected two of his favorite West Coast Navy Day special cancels to include. USS NEREUS (AS-17) was put in commissioned at Mare Island. This cover shows her type F (N-3) FDC cancel. She was one of two ships commissioned on this day (the other being USS FRANKLIN D. ROOSEVELT (CV-42), commissioned at the New York Navy Yard).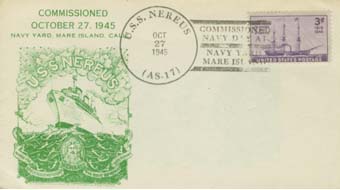 USS TEXAS (BB-35) participated in the festivities at San Pedro, CA. The cover below shows her type F (T-12q).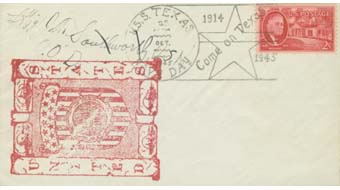 The author would like to thank Jim Myerson for much of the information and copies of the covers that accompany this article.